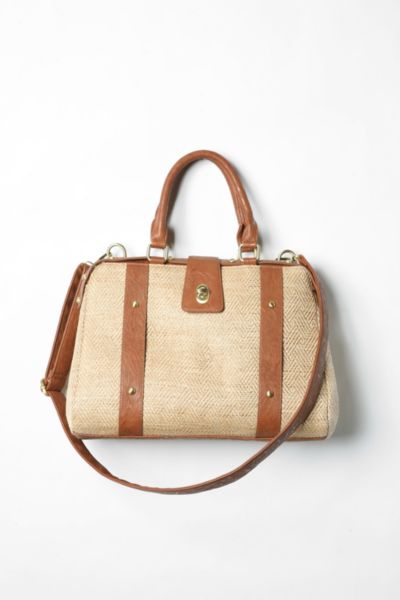 Structured straw doctor bag by Kimchi Blue with contrasting handles and strap detail. Side snaps open up for a wider compartment; fully lined interior with a zipper pocket and two organizer pouches; reinforced bottom panel. Complete with a padded carry handles and a removable and adjustable crossbody strap.
UniqueFashion

Cream, 60s straw handbag with a vinyl trim. It has a strap that runs across the top and fits into the front tab for closure. The middle compartment has top closure, it opens up to a tan lining with a side zippered pocket and there is a partition on either side. Stamped Verdi made in USA.

UniqueFashion

Vintage, olive green, straw clutch, handbag. It has horizontal stripes in pink and an ethnic design in the middle in shades of teal, pink and green. Pattern is repeated on the backside. Bag has a top zipper closure with tan leather strap. It is lined in a cream muslin with a side pocket.