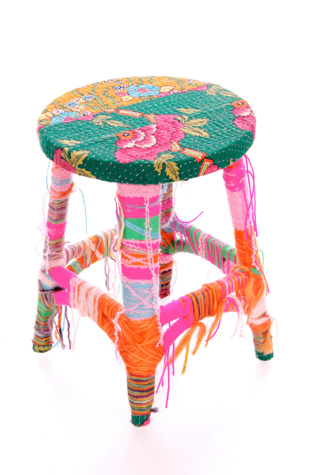 Handcrafted wooden stool with candy-colored homespun yarns whipped into a frenzy and frayed. Seat cushioned and covered with brightly colored fabric cut from a vintage Banjara quilt. This handy stool is not only darling, but functional and is sure to pop in any room! The stool is 11" wide and 15" tall. *Wood / acrylic / cotton *Imported This item will ship via UPS Ground and there will be an additional $10 shipping charge.
Paisley

Form: The Lighthouse Shop. A funky alternative stool to brighten up the office or home. Materials - polyethylene and polyurethane. Must be filled with dry sand - requirement (sand not included).

MrUniqueAndOriginal

Funky rounded or cylindrical rocking item which can be used as a chair or stool in shiny plexiglas-like material and plastic base.

jodiDESIGN

With a fresh take on forms and designs inspired by anything from 16th Century France to Victoriana Britain to Dutch contemporaries, this range of contemporary furniture and interior accessories offer simple and sumptuous aesthetics met with function and practicality for the everyday.