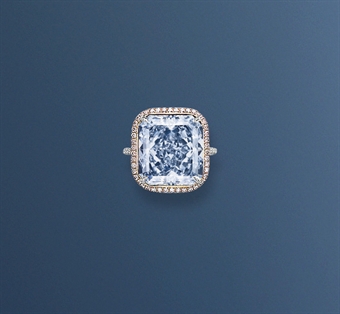 Overall, the jewelry market has seen signs of weakness lately but the tip of the market is still strong. The blue diamond shown above is a 13.39 carat stunner which sold for a world record price of $8.9 million at a sale at Christie's in Geneva last Wednesday. Blue diamonds of this size are rather rare. The stone is a type IIb diamond. Type IIb diamonds are prized by jewelry lovers and collectors and contain small amounts of boron which gives them their color. They also have the property of being semi-conductors that conduct electricity. The auction brought in nearly $48.3 million total. 14 May 2008 THE GENEVA SALE - EVENING GLAMOUR* CHF9,233,000($8,785,366) Set with a rectangular-cut fancy intense blue diamond weighing 13.39 carats, to the micro pavé-set fancy pink diamond surround and diamond bifurcated hoop, mounted in platinum and 18k white gold, ring size 6
melodyjoyangel7

1800's New Select Silver Tequila Posted May 22nd 2008 12:01PM by Jared Paul Stern Filed under: Spirits 1800, the 100% blue Agave tequila that takes it name from the year in which the spirit was first aged in wood, has just launched a new addition to its ultra-premium offerings: 1800 Select Silver. The potent 100 proof elixir is double distilled and blended with a touch of aged tequila, and bottled with a glass stopper that doubles as a shot glass (very convenient). Select Silver joins 1800's impressive range which includes Silver, Reposado, Anejo, and one of the category's most expensive tequilas, 1800 Coleccion, an extra-Anejo that's available in a hand-made, limited edition decanter of pure silver, costing $25,000. And no, that's not a typo.

TiffanyZ

Gwyneth Paltrow Named the New Face of Tod's Posted May 20th 2008 2:02PM by Jared Paul Stern Filed under: Apparel, Handbags, Shoes Gwyneth Paltrow has been named the new face of Italian luxury goods brand Tod's in the wake of a short film she made for them which just debuted at Cannes. The ad campaign, shot by Mario Testino in Capri aboard dashing Tod's CEO Diego Della Valle's yacht, portrays "the uber luxurious, outdoors-y life of a beautiful Italian aristocrat from the heady days of the jet-set era," Vogue UK reports. "Italian style is very sexy, very womanly and what I love is that it seems to have so many different inspirations," Paltrow told the mag. She replaces Sienna Miller, who starred in Tod's ads last year. The Cannes short, which was directed by Dennis Hopper, a longtime friend of Della Valle's, portrayed a day in the life of Gwyneth with her favorite Tod's bag. We have long been fans of Tod's classic driving mocs, probably the most comfortable shoes in the world.

jodiann

Chanel Diamante Bow Cuff (18/06/2008) £540 Bows are a delightfully feminine touch for summer, so add this cute bracelet to dress up a plain outfit.