Lavajewelry.bigcartel.com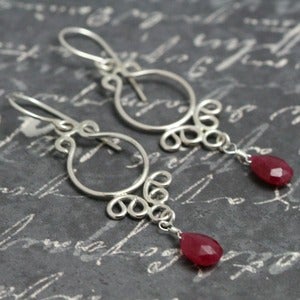 I made these sterling silver earrings using traditional metalsmithing techniques, and then I wire-wrapped a single genuine ruby at the bottom of each earring. These rubies are such a rich red color! These earrings measure 14mm across, and 2 1/8 inches (5.6cm) in total length, from the tops of the sterling silver ear wires. Ruby is July's birthstone.
lavajewelry

This pendant is made of a pretty rectangular red picture jasper stone. It measures approximately 30mm by 22mm, and it has a pattern in pinks, reds,...

lavajewelry

Each of these 1" sterling silver hoop earrings has 26 tiny spinel gemstones carefully wire wrapped to it in sterling silver wire. The stones have a...