Harperstreet.bigcartel.com Sterling Silver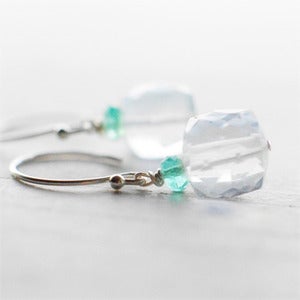 These earrings feature a faceted quartz gemstone cube iin a very light blue color- it's nearly clear. The cube is accented by a small apatite gem in a beautiful vibrant turquoise color. They are wire-wrapped with Sterling Silver wire onto Sterling Silver earwires. They measure a little over 1" in length including the earwire, and the dangle itself (no earwire) is just around a half inch in length.
harperstreet

So sweet & simple... this necklace truly goes with everything. This necklace works on your "jeans & t-shirt" days, and can be dressed up as well. The...