Couture Lab Winter Fashion Couture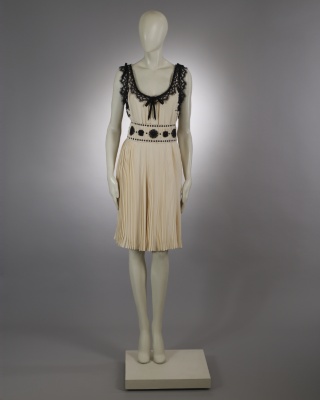 Ivory Dior Couture Dress E2 for CoutureLab Reconditioned Dior couture pleated dress £1,935 €2,515 (approx) $3,870 (approx) Product: CL2103 Size: Medium-Large Flawless in its construction and embellishment, this reconditioned vintage dress is a perfect example of E2's ability to revive forgotten couture. The ivory pleats are soft yet structured, causing a gentle flare at the hem. The top has been embroidered and embellished entirely by hand, with antique lace, silk flowers and studs. The panel belt features the same intricate pleats (zoom to see the detail) and black floral decoration, graduating toward the back and fastening with a silk ribbon. The dress is lined with ivory silk. This is a one-off unique piece and cannot be reordered.
penelopetaschen

Monochrome Tunic Dress Surekha Jain for CoutureLab Tunic dress with black and white silk yarn embroidery £1,292 €1,680 (approx) $2,584...

melodyjoyangel7

Infanta Lace Blouse Isabel Toledo Collection Lace blouse with silk tulle underlay in black antique gold £1,505 €1,956 (approx) $3,010...

artiststundra

Escargot Cape minaPoe for CoutureLab Butterfly cape with silk swirl design £1,342 €1,745 (approx) $2,684 (approx) This graceful...