Couture Lab Glamour Sexy Designer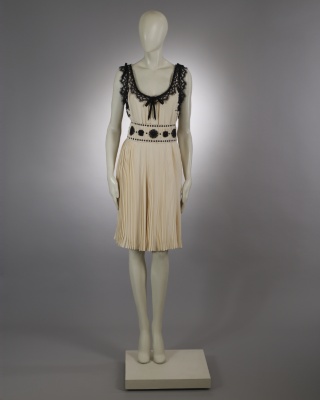 Ivory Dior Couture Dress E2 for CoutureLab Reconditioned Dior couture pleated dress £1,935 €2,515 (approx) $3,870 (approx) Product: CL2103 Size: Medium-Large Flawless in its construction and embellishment, this reconditioned vintage dress is a perfect example of E2's ability to revive forgotten couture. The ivory pleats are soft yet structured, causing a gentle flare at the hem. The top has been embroidered and embellished entirely by hand, with antique lace, silk flowers and studs. The panel belt features the same intricate pleats (zoom to see the detail) and black floral decoration, graduating toward the back and fastening with a silk ribbon. The dress is lined with ivory silk. This is a one-off unique piece and cannot be reordered.
penelopetaschen

Monochrome Tunic Dress Surekha Jain for CoutureLab Tunic dress with black and white silk yarn embroidery £1,292 €1,680 (approx) $2,584 (approx) This pure Georgette silk dress, designed by Surekha Jain, has been intricately embroidered with black and white silk threads in a wonderful jacquard pattern. The dress features a scooped slash neck, a-line cut and gently fluted three-quarter length sleeves. This dress has been created exclusively for CoutureLab. Surekha Jain accepts bespoke orders from CoutureLab customers. If you would like to have a unique piece made in a color and design of your choice, then please contact us to enquire further.

melodyjoyangel7

Infanta Lace Blouse Isabel Toledo Collection Lace blouse with silk tulle underlay in black antique gold £1,505 €1,956 (approx) $3,010 (approx) Product: CL2890 This beautiful handmade lace blouse features intricate details. The wide structured collar contrasts with the feminine ruffled neckline, generous puff sleeves and lace tails. The cotton black lace has a subtle gold glint, giving this modern cut an antique quality. To create the incredible, textured volume, the blouse is lined with layers of soft silk tulle.

artiststundra

Escargot Cape minaPoe for CoutureLab Butterfly cape with silk swirl design £1,342 €1,745 (approx) $2,684 (approx) This graceful butterfly cape is hand-crocheted from a silver silky viscose and adorned with silk segments. These segments are cut into swirl, 'escargot' designs. The cape is reversible; one side reveals a gray dotted pattern on the black silk and on the other side, plain black. This piece is crocheted as a whole garment, including the silk ruffle tipped crochet ribbon tie, ensuring that there are smooth lines and no stray embroidery threads.