Couture Lab Flower Design Jewelry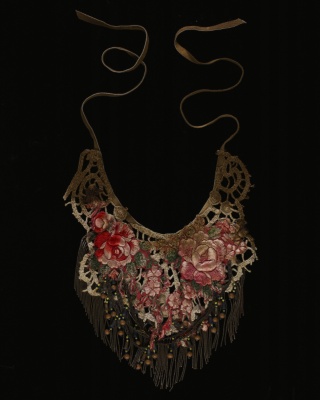 Flower Lace Necklace Walid for CoutureLab Crochet beaded neckpiece with 19th century Victorian flower embroidery £440 €572 (approx) $880 (approx) Product: CL2200 Size: U This unique neckpiece has been made entirely by hand from antique materials. It features 19th century silk floral embroidery in dusky pinks and faded greens. Threaded onto the subtle gold crochet underlayer are long brass coils and antique wooden beads, creating a dense, tactile fringing. This versatile piece can be worn traditionally around the neck, over the shoulders, or around the waist as shown. This is a one of a kind piece made from antique fabrics; the imperfections are considered unique qualities as opposed to flaws.
Coral Diamond Flower Ring Lydia Courteille Collection Coral centerpiece in black gold, surrounded by diamonds, garnets, rubies and sapphires...

Onyx Diamond Flower Ring Lydia Courteille Collection Black onyx centerpiece surrounded by diamonds, green garnets and pink sapphires £8,138...