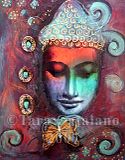 This site is a sanctuary of creations expressing my Inner Spirit. Many techniques are applied such as mixed media, abstraction, digital, assemblage, and collage to create my unique and extraordinary works of art. Recycled jewelry and found objects have been incorporated in the design of many of my pieces resulting in rich texture and appeal.
azazeal

Giclée is a term for a printmaking method using an ink-jet printer for photographic images of paintings to produce high-quality reproductions.

artist7

Dancing with Nature is a colorful, vibrant painting expressing my love and respect for nature. The original painting was bought by an art patron from the United Kingdom. It was my first overseas transaction and I am proud to share it with you in the form of an ACEO! What is an ACEO?: ACEO stands for "Art Cards, Editions and Originals". These cards have one main rule - they are 3.5 inches by 2.5 inches - the size of a trading card. Artists from all over the world are creating, and now selling these cuties. They make great conversation pieces, gifts, decorations, or what ever you can imagine. Frame them, box them, trade them, or give them away. They are your little masterpieces to keep forever!