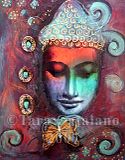 This site is a sanctuary of creations expressing my Inner Spirit. Many techniques are applied such as mixed media, abstraction, digital, assemblage, and collage to create my unique and extraordinary works of art. Recycled jewelry and found objects have been incorporated in the design of many of my pieces resulting in rich texture and appeal.
artist7

Original paintings now in print. Check out these gorgeous contemporary prints at Imagekind. Each print can be customized with your choice of frame...

artist7

Fine Art ACEO prints. Artists and Art lovers are collecting, trading, and displaying these tiny little treasures. They are the size of baseball...