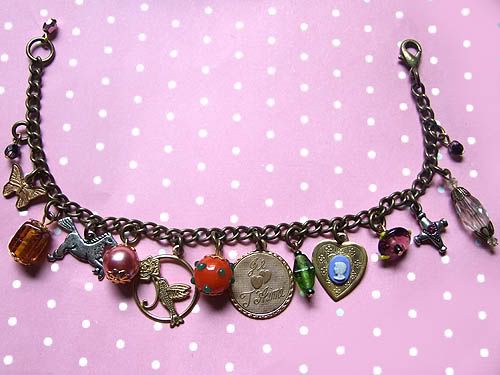 Charmed I'm Sure! is a charm bracelet packed with whimsy and individuality. Lampwork glass beads, vintage brass charms, unusual vintage pewter and restrung lucite beads combine in a delicately aged palette and the brass charms have an attractive patina. Perfect to wear for afternoon tea or a stroll along the prom (while the brass bands play tiddley-om-pom-pom!) Absolutely one of a kind! Antiqued brass chain Bracelet length:- Adjustable up to 8 ins
The_Birds_In_The_Meadow

This eccentric and super colourful charm bracelet features a whole bunch of reclaimed and recycled charms, restrung beads and unexpected fun bits and...

Rochnad

Why skin your knees getting over the garden wall when you have the key to the gate? This longer length cluster necklace is made using a salvaged key,...

redpanda

Introducing to the world: Nova pendants! These little units are my own unique invention/design. They're one large metal ring that's covered in...