Women's Clothing: Women's Clothing: Long herringbone trench coat: Coats 30% Off Outerwear | Gap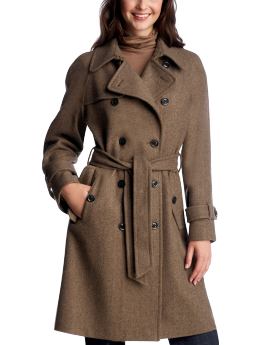 KNplaid
discovered 61 months ago
Related Blogs
Get The Winning Look From Our 'Kate Middleton - Royal Style' Poll!

by Ida Hsiang

Kate Middleton, now the new Princess Catherine, is poised to be a real style icon with her classically youthful but modern ensembles. One go-to look she has that we love? A structured long coat, classic boots or pumps, a chic bag and minimal jewelry. We asked you last week which of these combination you liked the best and with almost half the votes, Princess Catherine's white trench coat and black boots is the winner! A white trench is the perfect coat for spring and those cooler summer evenings, while her boots add a little sex appeal without being too over-the-top. Her silver accessories and versatile black satchel help complete a look fit for a Queen in the making! Click on the slideshow to get this stylish Kate Middleton look for yourself!

by Ida Hsiang

Cue trumpets: the Pierre Hardy shoes for Gap have arrived!Priced at $125 a pair, these versatile pumps can soften up your work-day attire, while also transitioning nicely into a night out with your beau.We also love the ankle booties! So cute with a flirty skirt and light cardigan. See where this amazing shoe collaboration is available in your area! Click over to our friends at Stylelist!