Women's Clothing: Women's Clothing: Corsage striped tank: Sleeveless Shirts & Tops | Gap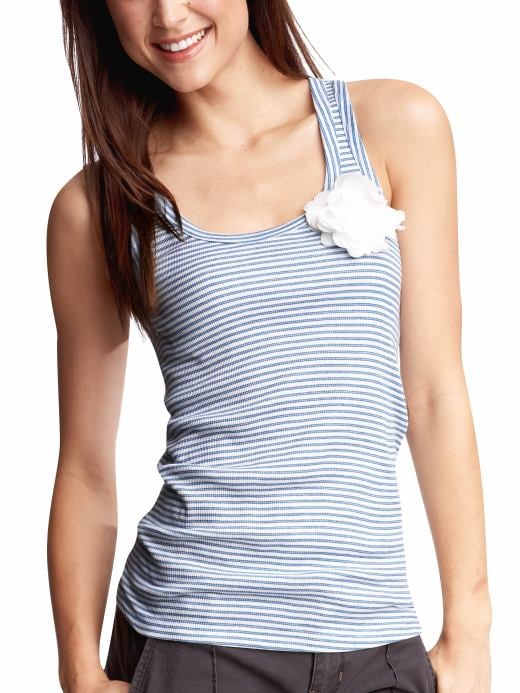 There's more at Gap.com including Petites and Tall sizes, kids slim and husky sizes, and baby bedding. You'll also find your favorite T-shirts, jeans, shirts, outerwear and accessories. Gap has everything you need for the season
xgalexy
discovered 47 months ago
Related Blogs
Daily Obsesh - Cream Cutout Floral Print Suntop

by Lisa Topiol

This is the stuff we live for in the warmer months - florals, flowy tops, fun colors, and sexy shapes. Summer is all about good times and fun apparel so this Cream Cutout Floral Print Suntop by Topshop really gets us going! Imagine yourself, crossbody bag slung across your shoulder, a great pair of espadrilles, and this top as you stroll the streets and soak in the summer sun.That's what this tank is all about - a carefree attitude and great style. What makes this top unique is the cutouts along the side to expose just a little bit more skin and giving a great shape. It mixes traditional floral patterns with a more industrial look by placing an exposed zipper at the front.Summer's here - arrive in style!Where to Buy - TopshopPrice - $56.00Who Found It - Cream Cutout Floral Print Suntop' to the Hive.

by Ida Hsiang

Cue trumpets: the Pierre Hardy shoes for Gap have arrived!Priced at $125 a pair, these versatile pumps can soften up your work-day attire, while also transitioning nicely into a night out with your beau.We also love the ankle booties! So cute with a flirty skirt and light cardigan. See where this amazing shoe collaboration is available in your area! Click over to our friends at Stylelist!