Women's Apparel: Sleek flap-pocket blazer: moonlight sleek suiting suit collections | Banana Republic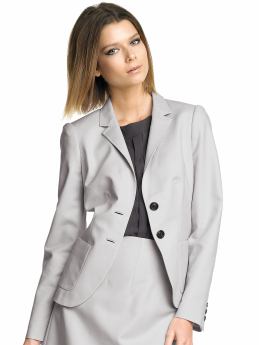 For a versatile choice, opt for a structured blazer in a cotton-blend fabric for go-anywhere style. Polished enough for the office yet perfectly comfortable for your favorite weekend getaways. Pairs with a matching A-line suit skirt, Martin trouser and Jackson wide-leg pant.
dgenevieve
discovered 58 months ago
Related Blogs
Daily Obsesh: Colors and Metallics

Plain figure-hugging mini skirt is probably one of the favorite classic wears. It can be coordinated in different styles to make you classy, sexy, or cute. Our favorite pick is this Ruba Skirt from BCBGMAXAZRIA with a little bit of added spice and fun. The mix of bright and cheerful color bands and metallic stripes create a unique trendy look and make this skirt glow. Classy fit in a contemporary design helps to style a traditional yet creative look. On-seam hip pockets even adds functionality to this lovely skirt.

Many people shy away from metallics during the daytime and save the glitters for the evening. However, it is never too early to add a little bit of dazzle to your daily outfit. That is exactly why we love this white jacket with gold lining on the sleeve that is featured in the Girl's Life magazine. Simple and chic white fitted jacket is accented with sparkling metallic gold on the sleeve, making this jacket more attractive. Match it with simple or soft colored bottom to complement the bright top, or go all out with stylish prints or little bit more sparkle.