Winter Solstice Sale Frankincense & Myrrh by leighswiccanboutique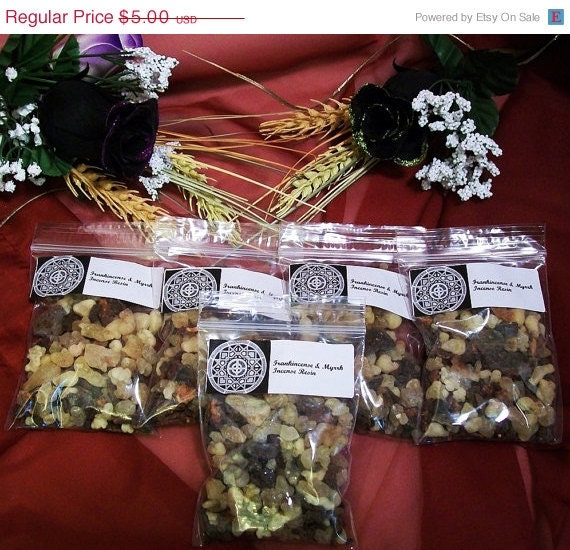 This listing is for 1 bag weighing approx. 1.54 oz. of Frankincense & Myrrh Resin Blend. I only have 3 bags left so dont let the pictures fool you! I have sold alot of this in my Local Shop. One reason I sell out of it so fast is because it is so cheap for its size! Plus it is a very very strong incense. You do not need more than 1 granular at a time on your Coal to do a large room. Take advantage of the sale because it Ends Friday. So you get it even cheaper than $5.00. Though both frankincense and myrrh tend to bring up certain religious connotations to the western mind, they have been in active use as magical incenses, ritual tools and for their healing properties since at least 1500bc. Resin incenses are the top of the line in incense burning. Using incense charcoal as a base, you can release the intense fragrance of these fine resin granules -- without the dilution or alteration of scent caused by a burning base or the fixatives typical in man-made stick or cone incense. Frankincense Tears are known for their use in consecration, meditation, protection and purifying. Myrrh is known for: Protection, purification, healing and magical potency. Both are known for their use as a sacred tool in many cultures. Find More Sacred Incense Listed: http://www.etsy.com/shop/leighswiccanboutique?section_id=7578726 Or Visit my Antique Vintage shop at: http://www.etsy.com/shop/mandileighs
MandiLeighs
discovered 64 months ago
Related Blogs
Gift Guide Pick: Jo Malone Candles

Every walk into a great smelling space and have it change your mood entirely?? Enter Jo Malone candles!

Daily Obsesh - Ben Amun Lemon Thick Resin Bangle

Lucite and plastic jewelry ruled the Spring runways and now the statement making pieces have finally landed in all the hottest shops and boutiques!Bold beads, baubles and bangles are right on-trend for your warm weather wardrobe and the ladies at the Hive can't wait to get their hands on all these brightly colored trinkets and treasures.Add some zest to spring/summer ensembles with Ben-Amun's lemon hued Thick Resin Bangle. In bright yellow, this chunky charmer will add a pop of 60's inspired color to all your summery looks. Made of high quality Italian resin, the bangle is surprisingly lightweight which makes it just perfect for stacking with all your other fave bangles. As we say here at the Hive, more is always better!Where to Buy - Ben AmunPrice - $145.00Who - Melimeli was the first to add the Ben-Amun Lemon Thick Resin Bangle to the Hive.