Vintage Trifari White Enamel and Goldtone by TwiceBakedVintage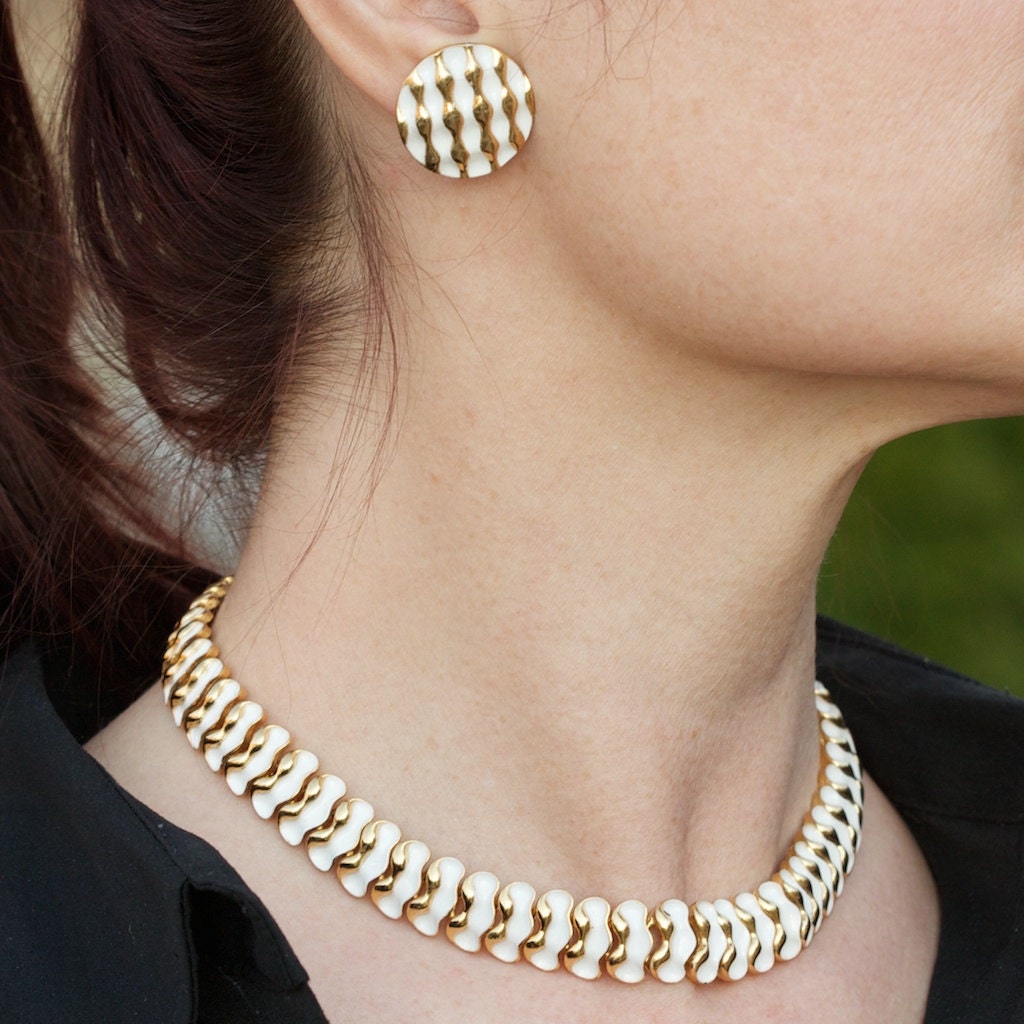 This is a lovely vintage Trifari necklace and earring demi-parure. It in great condition and the enamel and goldtone is in wonder condition. A
lwende
discovered 60 months ago
Related Blogs
Daily Obsesh - Sri Lanka Fancy Elephant Necklace

Seeking something exotic for the Spring/Summer season? Ethnic inspired looks played a major role in shaping all that is fresh and new for the new season!Multi-cultural influences from African beads, batik and ikat prints and bold bright hues are at the forefront of Spring/Summer 2011 fashion.If bold prints and bright colors aren't necessarily your thing, get the look with a little jewelry. This Sri Lanka Fancy Elephant Necklace is the perfect pick! The enamel elephant boasts gilded details of gold and amber accents, and hangs from a delicate gold plated drop chain. Dress up your favorite flare jeans and tee looks and add exotic flair to a flowing sundress! This little charmer will surely spice up all your warm weather looks!Where to Buy - Fred FlarePrice - $12Who - Melimeli was the first to add the Sri Lanka Fancy Elephant Necklace to the Hive.

Dial Up Spring Style With Vintage Costume Jewelry

by Mary Kincaid

Diamonds may be forever but it could take what seems like forever before you can save enough to splurge on them, especially in today's economy. And with gold prices in the stratosphere, what's a fashionista to do? Turn to vintage costume jewelry! Instead of spending money on new clothes this season, why not try adding a handful of unique vintage jewelry pieces to punch up the items already hanging in your closet? By choosing rhinestones over diamonds, baked enamel over turquoise, and semi-precious stones over precious stones, you can razzle and dazzle on a much lower budget without sacrificing an ounce of style. Plus, if you select wisely, you might even see a 10-15% gain in value as the years pass by. Just click the slideshow for a hand-picked selection of great vintage costume jewelry choices.