Vintage Koos Van Den Akker Dress at Free People Clothing Boutique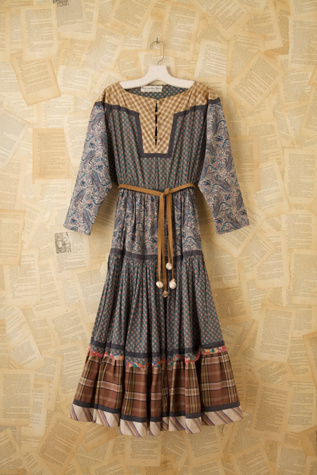 Vintage Koos Van Den Akker Dress | Gorgeous patchwork Koos Van Den Akker dress with dolman sleeves, tiered skirt, stretch waist, and three-button placket at the neck. Includes a suede belt tie with seashell embellishment at the ends. Koos Van Den Akker is a designer best known for his detail in crafting garments for Christian Dior and for the way he mixes bold colors and prints to create beautiful, textural pieces.
FreePeople
discovered 71 months ago
Related Blogs
The sun is coming out and we are getting excited to get out difference versions of sunglasses we own. Going on a sunglasses hunt is always fun as there are so many different shapes, colors, and sizes. Our favorite pick today is this Silver Metal Frame Sunglasses from Quay Eyewear. Circular lens frame is finished off by the angular corner giving it a retro and chic cat-eye look. With the reflective metallic coated slim lenses that go across the circular frame, this sunglasses is looking cool and vintage inspired. Perfectly put together with lightweight metal frames and adjustable silicone nose pads for added comfort.

New Year's Eve Dresses: 4 Ways To Rock

Hear that? It's the sound of the clock counting down. What are you going to wear??? We've listed 4 cute dresses to start you off!