Up-Do Mini-Dress - Anthropologie.com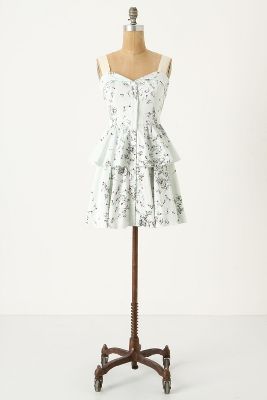 Maria Bonita Extra spilled a whole box of bobby pins - regular and heart-tipped - across her flounced poplin dress. Sweeping your hair into a ponytail will show off the cool, canvas-tape straps.
soapyme
discovered 43 months ago
Related Blogs
Bag of the Week - Quality Mending Co. Tote

There's always room in our closets for yet another fantastic tote bag. Canvas, cotton or even nylon, leather and suede trimmed ... sometimes sequins, too. Nowadays, a tote is one of every fashionista's outfits key accessories! It's the perfect piece to carry to work with a cool clutch tucked inside for the evening, or vice versa, stuff the little pouch into your purse for an after work trip to the market or wine shop! Totes are surely at the top of out must-have list!The Quality Mending Co. Tote is the perfect addition to your growing collection. The NYC vintage resource started making their own heritage bags and stylish city girls can't seem to get enough. Made of sturdy, high quality canvas, the extra deep bag is trimmed in leather and comes in a deep indigo blue and pretty, subtle summery yellow. Where to Buy - MadewellPrice - $98.00Who - Melimeli was the first to add the Quality Mending Co. Tote to the Hive.

Daily Obsesh - The Cynthia Dress

by Susan Yara

When you walk by, you want all the cute boys to think, 'She's pretty ... pretty hot!' That's why we like this sexy little number. It's not just a little black dress ... it's your 'I'm stepping it up to turn heads' dress and we're confident that when you put it on, you'll feel smokin' hot!It's made with a cotton and spandex blend that makes the dress fit every curve of your body. And even though it's short, the turtle neck balances that out ... until you get to the cut-away, sheer pieces that show case the front and back. Wowza. So don't be shy! Put on this dress and throw on your dancing shoes. Momma is goin' out tonight! Where to Buy - KarmaLoop.comPrice - $70.00Who Found It - SusanY was the first to add the 'Cynthia Dress' to the Hive.