Trapeze Tunic - Anthropologie.com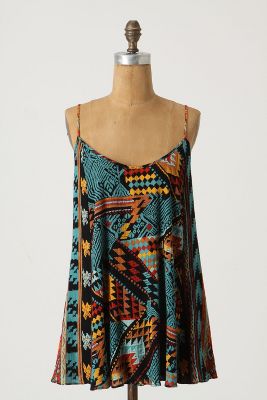 A swingy swathe of voile dangles beneath two slender straps. By Maple.
soapyme
discovered 24 months ago
Related Blogs
Cute Thanksgiving Outfits That Allow Room For Seconds!

by Ida Hsiang

Thanksgiving is just around the corner and we're all looking forward to the family time and, more importantly, the delicious and extensive Thanksgiving dinner! But while 'tis the season to indulge and seconds are a must, we don't need to show our turkey-filled bellies off for all to see. It's no secret that skintight jeans or a clingy top would not be the most comfortable or flattering after your third slice of pie and that the wisest 'cute but comfy' Thanksgiving options would be looser fitting tops and belly-accommodating pieces. Draped tunics and oversized tops are completely in style, while sweet, girly baby doll dresses are a classic. Leggings are sleek and flattering, or if you're looking for something a little dressier, try a pair of jeggings or cargo leggings. Click on the slideshow to see some of our favorite looks and styles to help us look great, stay comfortable and eat our fill this Thanksgiving!

While many of our favorite lace garments belong in our drawer of un-mentionables, the look of lace in your everyday outfits has a lingerie-like lust effect on the on-lookers. The see-thru floral ringlet design is perfect for a summery look and feel, as the whole idea around lace as a fabric is for it to be light and airy. The best part -- a little flash of lace can go a long way. Lace is just one of those easy to add fashion commodities that can be found in the most creative of places, such as ust between the straps of your racerback tank or as a mini ruffle to your mini-skirt. Going all lace has a vintage appeal: when white, the classic sheer is soft and virtuous, and when black, your look's turned scarlet-letter scandalous. In a season that's known for its harsh heat, smoulder a little more comfortably in the breezy feel of lace. Sift through these slideshow picks for ideas on some lustrous lacy looks!