The Travelling-Desk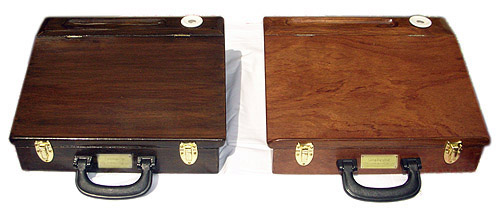 tastytacky
discovered 48 months ago
Related Blogs
by Susan Yara

What if we told you that you could save money by keeping a pet elephant? That would just sound a little bit cray-cray, right? But the truth is ... you can - with this great home accessory!It's an elephant bank. Not to be confused with a piggy bank. And whether you actually want to store your coins in it or not, it looks darling and sweet sitting on your desk, a shelf or next to your television. Plus, you have to appreciate that it's wood-carved, hand-painted, and it's much larger than it looks in the picture. Not to mention, it has felt on the feet to protect the surface it sits on. So go on ... give in to your need to save by buying this lovely elephant. We'll call her Sally. Where to Buy - Urban OutfittersPrice - $20.00Who Found It - Idabone was the first to add the 'Elle Bank' to the Hive.

Downsize Your Desk To Fit Your Laptop

by Anna Yu

I remember growing up sitting at a huge desk that housed the family computer and bulky CRT monitor. I don't know about you, but it seems like everyone has a computer with a flat screen monitor, a laptop or an even teenier netbook. To add to that, we no longer have stacks of CDs or floppy discs to take up even more office real estate. So that means we can all ditch the large desks and go for something more space saving and streamlined. Choose something small compact like the Flip Desk from west elm or something even smaller like the Nestable stand which looks like a music stand for your laptop. Now you just have to tackle the tangled cables in the back! Take a look at my slideshow to see more desks for the modern office.