The National Geographic Online Store - World Mural Map, Earth-toned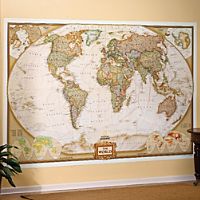 kelojif
discovered 48 months ago
Related Blogs
Bag of the Week - Le Sportsac JOYRICH Backpack

by Brooke Baker

Le Sportsac has collaborated with JOYRICH to create a collection of street-fab luggage and accessories. Done in three prints and available across the web, these bags are going to sweep the nation's hipsters like Chrome messenger bags before them!They have a gold chain pattern, a Chanel-inspired number bag, and, of course, an animal print. The collection adds pizzazz and charm to the often dowdy backpack.Now that airports have all but banned baggage altogether, carry-on options look more and more appealing. Although the raggedy, high school leftover bag will get the job done in a pinch, why not update to something a little more snappy than that stained evergreen Jansport with the 'I Heart Josh Hartnett' key-chain and family of nesting spiders?Where to Buy - Urban OutfittersPrice - $158.00

by Ida Hsiang

Whether it's a friend graduating high-school or a loved one that just completed their degree, there's no doubt about it ... it's Grad season! Flowers and teddy bears are super sweet but get your grad something really unique that they'll love and remember! Make it something cherished with a beautiful piece of jewelry or give them a little comic relief after the stress of finals with a funny keepsake. Stuck on what to give your grad? Break out of the norm and check out our grad gift picks by clicking on the slideshow!