Tepee - View All Tools For Living - Tools for Living - Design Within Reach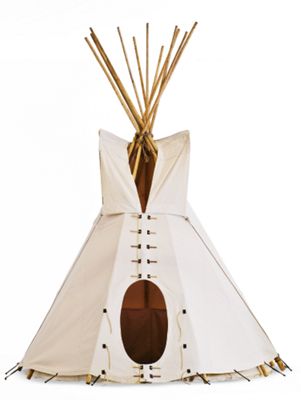 For adventurers of all ages, the classic Tepee (2008) is a simple solution for spending time outdoors with minimal impact on the surrounding landscape. This one was crafted for DWR Tools for Living by Dave Ellis, who spent 10 years working in the canvas business before creating his own line of tents and tepees in 1982. We chose his work because of his quality materials and construction that provides proper ventilation, flame resistance and reinforced stress points. What's also unique about this design is the sewn-in floor liner that allows proper air flow, while ensuring that nothing accidentally leaves or enters the Tepee. This floor also makes it easier to see where the poles should be placed when building the Tepee. The floor liner is not waterproof, which Ellis did on purpose since material that breathes won't kill the grass underneath.
akuba
discovered 73 months ago
Related Blogs
Designer Guillaume Henry on the Carven Woman

by Ida Hsiang

We want to let you in on a secret - it's called Carven and it's about to take the fashion world by storm, again.Up-and-coming designer Guillaume Henry was signed on as creative director of the the French house in 2009 and has since dressed celebrities from Demi Moore to Gwyneth Paltrow to Leighton Meester. He describes the Carven girl as a 'girl with a free spirit but likes to be elegant' and adds that his creations are perfect for any woman who wants to be attractive without showing too much.The inspiration for his quirky cocktail dresses comes from traveling and mythology. And the ultra-hip frocks with unexpected cut-out details can be worn at any age.Read more and check out the video by clicking over to our friends at TheFind!

Daily Obsesh - Meio Cheio Sugar Bowl

by Brooke Baker

This Meio Cheio Sugar Bowl is absolutely adorable ... and versatile! We're loving the kaleidoscope-patterned glass, the Chinoiserie-inspired shape, and the subtle yet beautiful design. Use this mini bowl as a candy bowl (IKEA candies in pastel colors would look beautiful), a ring holder, or even just a decorative piece to put on display! Put it on your nightstand as a pretty center piece that also holds small jewelry! A beautiful accessory to any home, the Meio Cheio Sugar Bowl also makes a wonderful gift!Where to Buy - Sobral USAPrice - $115.00Who Found It - BrookeElisabeth was the first to add the 'Meio Cheio Sugar Bowl' to the Hive.