Studded Vintage Combat Boot at Free People Clothing Boutique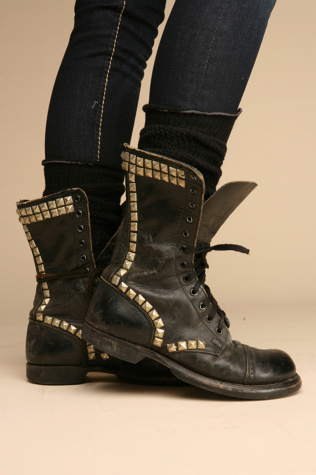 Studded Vintage Combat Boot | <p><strong>Please Note: Each pair is one of a kind and studded by hand so they may vary slightly. Most are vintage men's boots but resized for women so they may be wider.</strong> </p> <p>Vintage leather combat boots with brass or silver stud detail throughout. Stud design and laces may vary as they are vintage and done by hand. Lace up closure and rubber sole. </p> <p>* Leather, brass<br />* Made in the USA </p>
toetoe
discovered 85 months ago
Related Blogs
Here at Karmaloop we are LOVING all the lace we are getting in. Lace is the connecting thread that links your feminine grace to your sexy siren! What's really awesome about lace is that you can add just a touch to accent your outfit, or style a whole look from it! The Lace Cuff By Ca Cao and The Alison Shoe by Betsey Johnson are awesome accent pieces because you can throw them on with anything for a lovely touch of femininity. Also a couple sweet lace layering pieces are The Lace Rose Leggings by *NYC Boutique and The Galoon Lace Cropped Tube Top in Black by Free People. Throw them on under your favorite drapey tank or tunic for a slight hint of sexy lace. For an eye-catching take on the classic lace dress, check out the awesome peek-a-boo cut-outs on The Reese Dress in Cream by Motel. For all things lace and more, be sure to check back at Karmaloop.com for hot new arrivals and tons of awesome markdowns but for now, click on the slideshow!

Flirt With Your Femininity In A Wide Brimmed Hat

by Lisa Topiol

So, it's vacation season and there's no doubt about it - you have to look your best. Summer is all about relaxing and of course, fun in the sun! I love floppy hats and always make sure to bring at least one along on trips. The great thing about sun hats is their oversized brim which makes it possible to avoid the sun and stay fashionable. You can hide your face and still be sexy! What better way to steer clear of nasty sunburns then with an adorable hat. Free People has a great selection of hats right now and my favorite has got to be the Medina sun hat. It's so girly and flirty I can't get enough of it! You can really wear this hat with pretty much anything. I love the blue color as well, it's a refreshing break from the usual lighter straw material that comes out during these hotter months. Add some class to your look this summer... be bold and grab for the hat!