sterling silver explore necklace with compass and oxidized world charm : Dogeared Jewels and Gifts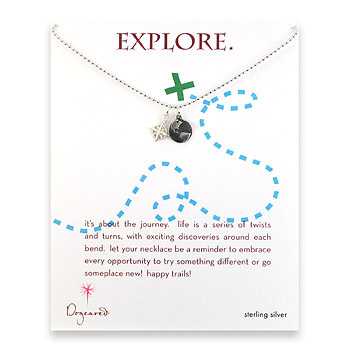 card message: it's about the journey. life is a series of twists and turns, with exciting discoveries around each bend. let your necklace be a reminder to embrace every opportunity to try something different or go someplace new! happy trails!
dogeared
discovered 96 months ago
Related Blogs
by Ida Hsiang

Whether it's a friend graduating high-school or a loved one that just completed their degree, there's no doubt about it ... it's Grad season! Flowers and teddy bears are super sweet but get your grad something really unique that they'll love and remember! Make it something cherished with a beautiful piece of jewelry or give them a little comic relief after the stress of finals with a funny keepsake. Stuck on what to give your grad? Break out of the norm and check out our grad gift picks by clicking on the slideshow!

Gotta Getaway: Take On Shanghai Sustainably At URBN Hotels!

Eco-friendly never looked so comfortable! This time around, why not take a green getaway and give Planet Earth a little vacation too? With it's state-of-the-art modernism, it's easy to forget that there's actually a cause behind the swanky URBN Hotels. A mere peek at the chic, boutique lodging makes it hard to believe that China's first sustainable hotel is a former factory warehouse. An extensive effort has been put into the greenness of URBN Hotels, located in the heart of Shanghai, including furnishings and decor made from all recycled materials. Its environmentally friendly practices are the beginning to a new breed of hotels with carbon-neutral practices and commitments to leaving as minimal earth-harming footprints. The company even prides itself on its investment in the growth of the million-tree project, one devoted to the planting of trees reserved for the purpose of compensating for emissions. You're even offered the opportunity to purchase carbon credits to make you feel better about your flight halfway around the world! Don't get the wrong idea: the environment isn't the only thing treated like royalty at URBN. The hotel's 26 rooms, spa suite and 2 penthouses provide the ultimate in guest comfort. With in-house accommodations like their guest-only rooftop cocktail lounge and concierge options that include guided bike tours and Chinese Mandarin language tutoring, guests are guaranteed a memorable Shanghai experience. View the slideshow to take a peek at the sleek and sensible carbon-neutral model that will soon be the new craze in tourism: Shanghai's URBN Hotels!