Spinner of Mystery and Power Gemstone by leighswiccanboutique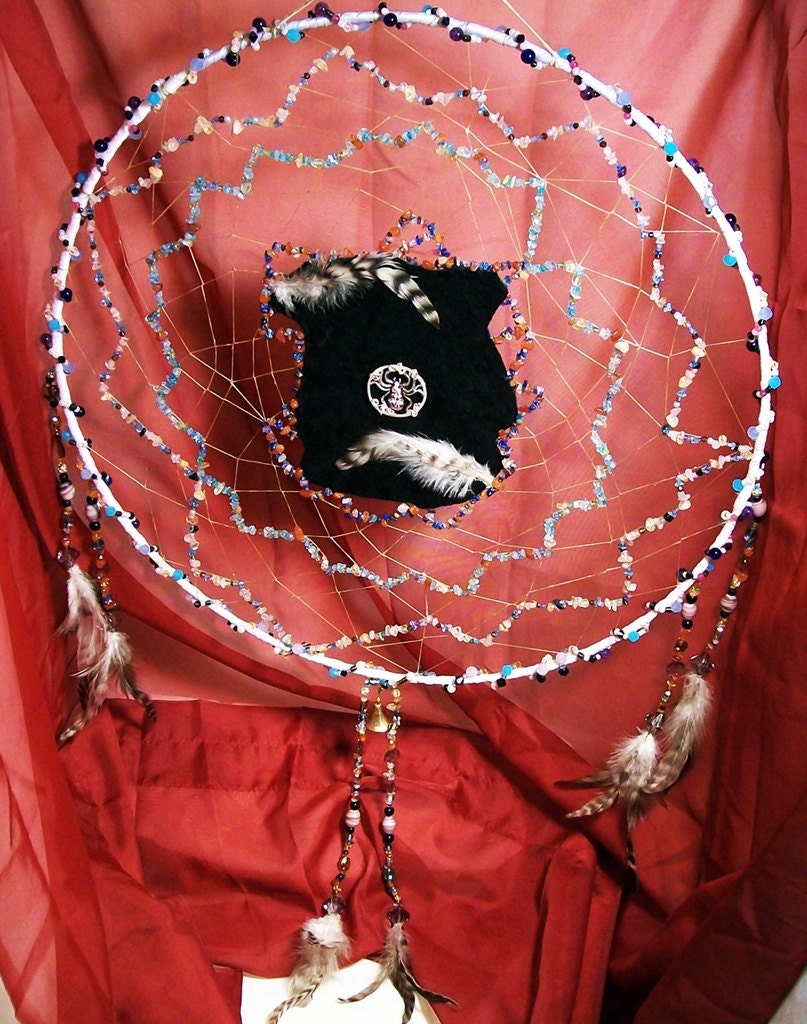 Just as the Spider weaves a web, so too must we weave our own lives. The spider is an ancient symbol of power, mystery and growth. Much of what the spider has to tell us is in the construction of it's web. The spider weaves an intricate web that serves as his home, the way he gets food to feed himself and also acts as a place of growth for its eggs. For it's life the web for the spider is about survival, hard work, fearless, and power. The spider shows us that it is all about choices. Even though we may be fearless we still need to be mindful of the choices and decisions we make for we create our own destiny. This Particular Spider that weaved this powerful dream web also serves another purpose. As the bad dreams arrive they become caught amongst the spiders web to later be devoured as the spiders food source. You will find a bell between the stones, and feathers at the bottom. The purpose of the bell is for each time negative energy, or negative dreams are caught it will chime, alarming the spider. The good, and positive dreams flow between the openings of the web allowing them to flow to you in your sleep. Hang above, or near your bed to catch negative energies from your dreams, Or hang in your window or door to just enjoy its beauty! This Powerful Protective Dreamcatcher is handcrafted by myself and truly one of a kind. Crafted from Ribbon, Sinew, and many powerful gemstones. The Gemstones in this piece are Apatite, Blue Topaz, Crystal, Citrine, Carnelian, Emerald, Pink Jade, Lapis Lazuli, and Rose Quartz. Accessorized with beautiful colorful glass beads. The Silver Spider sits in the center amongst Black Sued, and is adorn with purple Crystals surrounded by Feathers. The feathers on the side, and below dangle from more lovely bead work consisting of the same powerful gemstone's, and glass beads that just shimmer brightly in the sunlight. This Dreamcatcher is very Large! The center circle is 19". Total length of the Dreamcatcher including feathers when hanging is 32". Due to its size I tried my hardest to capture the beauty of this dream web the best I could. You will also receive an attached copy of the Dream Protection Meditation (or emailed copy). I have provided a sample of the Meditation below. The sample is only a portion of the true meditation. You will receive the entire Dream Protection Meditation with your purchase. Time Invested 2 weeks total. ♥ FYI!♥ Shipping is Based off like Products sold and shipped. Over payment in shipping of 1.00 or more is always refunded to the buyer! Find more Dream Catchers listed at: http://www.etsy.com/shop/leighswiccanboutique?section_id=6978564 ____________________________________________________________ Dream Protection Meditation Sample: As you lay in bed before falling asleep visualize a white light surrounding your body. Focus on this beautiful light covering you like a blanket. If you focus close enough and long enough you will in time learn to make this light brighten and dim as you wish. You can also learn to control the amount of heat this light puts off. Some say they can make the light sparkle and glimmer with practice. This is your protection from negative energy that enters your sleep in dream phase............................... ____________________________________________________________
MandiLeighs
discovered 62 months ago
Links
Related Blogs
Daily Obsesh - Hello Kitty Puzzle

by Lisa Topiol

As a little girl I was in love with Hello Kitty. I had pencils, pens, stationary, purses, keychains, even a trashcan! Basically, when I got older my obsession lessened and eventually disappeared, but there's still a special place in my heart for Hello Kitty and her cute, mouthless smile. To this day, when I come across something from Sanrio, I fall instantly in love. I love that Urban Outfitters has this adorable Hello Kitty Puzzle Head for sale because it's a great piece to remind me of my childhood and looks great in an office, or to entertain younger guests who visit your house. This puzzle is an awesomely cute stocking stuffer or gift for a friend and anyone who spent their youth obsessed with Sanrio will get a kick out of this adorable 3D puzzle! I love the use of pink and white, and Hello Kitty seriously looks adorable! Sure, I don't really need something like this for my house, but I know I must have it! This little kitty is going to become your instant computer desk buddy!Where to Buy - Urban OutfittersPrice - $18.00Who Found It - Ltopiol was the first to add the 'Hello Kitty Puzzle Head' to the Hive.

Daily Obsesh - Shakespeare Tissue Box Holder

by Lisa Topiol

Alright, I'll admit it. I'm a sucker for tacky housewares. It's not that I want my house to look weird (which there's nothing wrong with!) or overly quirky, but there's just something about a humorous little addition to your home that really attracts me. It's hard to find something that perfectly fits that requirement. I get such a kick out of this Shakespeare Tissue Box Holder by Bard though! Looking at the picture alone cracks me up! How hilarious is it that the tissues come out of Shakespeare's nose? I mean, this thing is just plain awesome. Tissue boxes are one of those items that you have very little control over how they look. Sure, there are a few brands that make boxes with a slightly cute design, but it's never anything that great. Forget about hiding tissues under the coffee table or in a corner, now you can showcase your awesome style and sense of humor with a little Shakespeare! I'm sure there are some literature buffs out there just dying to take this baby home.