small peace journal with turquoise leather : Dogeared Jewels and Gifts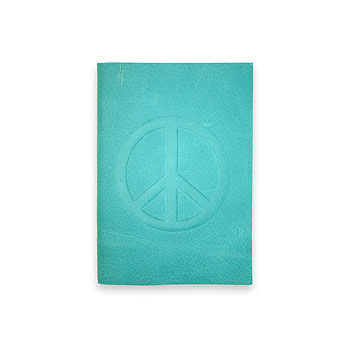 Our limited edition peace sign Lost and Found journals are made with repurposed leather from the Dogeared vaults and recycled paper. Very eco-friendly! Mother Nature loves them! She uses hers to write love notes on, make lists on, and scratch down brilliant ideas on. You can, too!
dogeared
discovered 94 months ago
Related Blogs
Daily Obsesh- Wreck This Journal

by Lisa Topiol

So, you've got time on your side and you don't know what to do. I know that on those days I've spent lots of hours in front of the tv or the computer, and usually I feel pretty guilty for wasting away my time. A friend recently introduced me to this cool little book that turned my boring days into awesome moments of creativity. Do yourself a favor and go pick up a copy of Wreck This Journal today! I promise, you won't regret it. For less than 10 bucks you'll find yourself doing the most interesting things! Some of the activities found in this journal include pouring and drawing with coffee, covering a page in numbers, dropping the journal from a tall building, and finger-painting! You can make this journal as pretty or as disgusting as you please, but the point is to wreck it! Bring back those fun days of childhood as an adult with this creative journal that will keep your creative juices flowing!Where to Buy - Barnes & NoblePrice - $9.32Who Found It - Ltopiol was the first to add the 'Wreck This Journal' to the Hive.

Bag Of The Week: Ecoist Leda Bag

by Lisa Topiol

I love shopping just as much as the next chick, but sometimes I feel guilty about all the materials wasted on products every day. The best way to ease my guilty conscience without losing out on being fashionably forward is to combine fashion with eco-friendly materials. What better way to show off your love for the environment then with a recycled bag that will have everyone talking? Ecoist has created some bags that are totally worth their price tag and my favorite by far has got to be the Leda bag. This bag is made completely from aluminum can tabs and even though it's recycled, it still kills all the competition on the streets. Not only is this bag eco-friendly, but they're handmade by Women's Cooperative which gives rural women the opportunity to earn money for their families. Let's step away from the leather, and start clearing up all the trash out there by putting it to good us as armwear! Bragging rights? Granted.