Saitek Green Multimedia Keyboard & Mouse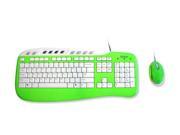 Bright, fun keyboard and mouse. Excellent for kids, but why let them have all the fun?
jezebel
discovered 80 months ago
Related Blogs
TheFind Adds Practical Fun To The Office Place!

It's a serious question that deserves a serious answer - where in the heck are you supposed to keep all those errant paperclips that happen across your desk? The little stragglers need to be kept, because you never know when you'll need a paperclip, but how can you keep track of all of them?My solution is this cute little magnetic birdie. She's sophisticated and handy at the same time. They're also a fun and pretty way to add color and interest to a would-be drab desk and work equally well for the work-place, a home office, or as a gift!Brought to you by our friends from TheFind!

Hot In The Hive: Navy Roll n' Go Keyboard

by Anna Yu

I would be the first to tell you that a job in fashion is super fun and rewarding. I mean, you can't beat discovering up and coming designers, going to cool events, and getting a sneak peek at cool products not even in stores yet! It almost makes me embarrassed that I get paid to do all this. Almost. On the flip side, it's not all glamour. I have the habit of lugging around my laptop everywhere to blog at a moment's notice and I know all the cafes with free wi-fi by heart. Sometimes there are days where both my laptop and iPhone are dead and I desperately need to send off an email (RSVPing to every invitation is the polite thing to do, you know) and there's a crusty computer at the cafe. No worries, I just roll out the Roll n€™ Go Keyboard from PB Teen for a portable and sanitary keyboard on the go. I'd also leave it in the office just in case someone spills coffee over their keyboard and is in need for a temporary replacement!Price: $29Who Found It: facadeindreams was the first to add the Navy Roll n€™ Go Keyboard to the Hive.