Product: Givenchy Armarige Gift Set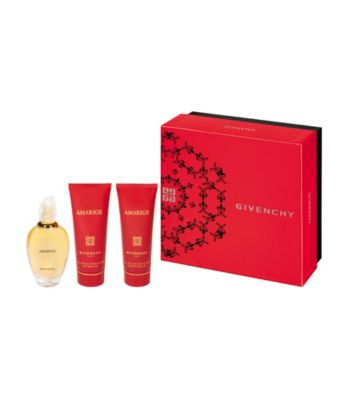 The Amarige bottle was inspired by a blouse once created by Hubert de Givenchy for his muse and style model, Bettina Graziella. A wide collar of gold - part-frosted, part-clear, part-opaline, part-flame - unveils the enchantment of the fragrance. A floral Woody Amber, Amarige has a rich, multiple fragrance like feelings straight from the heart. Gift set includes: 1.7-oz. Eau de Parfum Spray 3.3-oz. Shower Gel 3.3-oz. Body Veil
dleath
discovered 65 months ago
Related Blogs
Daily Obsesh - Ahava Bath Salts

by Lisa Topiol

One of the biggest attractions to visiting the Dead Sea is reaping the benefits of the salt-filled water. Reputed to be extremely good for your skin, a soak in the Dead Sea leaves you soft and beautiful while also relieving tension in the body! Most of us can't afford to fly over there to take a dip in the water on a regular basis, but no worries! The next best thing is the Ahava Bath Salts. These salts are straight from the Dead Sea and have all the same benefits of the water itself! Filled with health-inducing minerals like magnesium, calcium, sodium, and potassium you'll really be treating yourself with these bath salts!So take a moment for yourself, draw a bath and pour in these salt crystals for a soak that's good for body and mind!Where to Buy - AhavaPrice - $22.00Who Found It - Ltopiol was the first to add the 'Ahava Bath Salts' to the Hive.

Hot In The Hive: Scary Shower Curtain

by Ida Hsiang

It's still July and nowhere near Halloween, but if you're a true horror fan like myself, then this scary shower curtain from Urban Outfitters is a year round must-have item. Totally functional as and pretty much just your standard shower curtain (with hanging hooks included), this scary shower curtain gets it spook factor from the shadowy figure sprawled across it. No matter how steamy a shower you like to take, this scary shower curtain is sure to give you chills every time. So why wait for Halloween to give yourself a thrill? Hang up this spooky bath decor and give yourself and any guests a fun scare every time nature calls! Just maybe invest in a nightlight for late night bathroom trips!What: Scary Shower Curtain from Urban OutfittersPrice: $28.00Who Found It: Idabone was the first to add the Scary Shower Curtain to the Hive.