pretty please dear — stone&honey- assembly necklace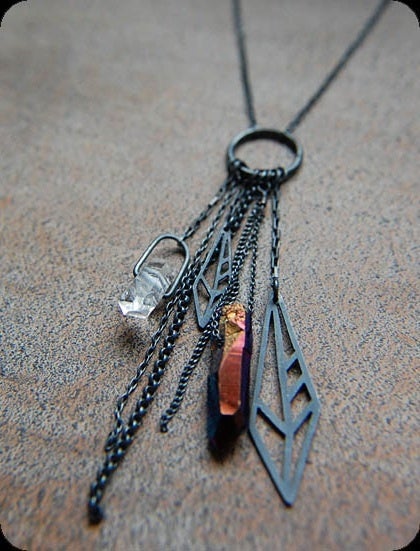 Assemblage necklace with two "pulse" cut out charms, herkimer quartz and titanium quartz crystals, and various dangling chains. All parts are secured to a oxidized sterling silver ring at the end of a 17" box chain w/ toggle clasp. Length of assemblage at longest point is 3.5"
prettypleasedear
discovered 85 months ago
Related Blogs
No one can stop the shoe obsession of fashionistas, or just any women. But this YANA from Brian Atwood can certainly satisfy the cravings for high heels this spring. This bright and sparkly single soled heel is a unique find. Scalloped chain edges the sides of the sandal creating a fun and luxurious design. Blue shagreen shade makes this shoes both refreshing and mysteriously seductive. You will find this shoes attractive and unique at an any angle you look from.

Like it or not, the cut out outfits are here to stay! Here are 3 pieces we're all cut out for!