Pop-Of-Dots Bikini Bottoms - Anthropologie.com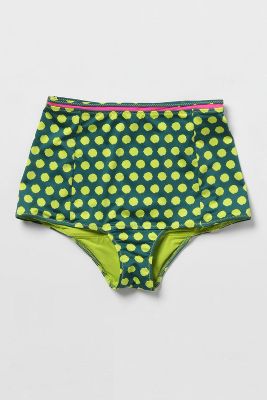 Neon-green circles shine bright within hot pink borders on Nanette Lepore's high-waist pairing.
soapyme
discovered 25 months ago
Related Blogs
Have you been seeing spots these days? This popular print is making fashion waves on the runway and the streets during Fashion Week. We're embracing this cheerful print and showing you how to spot it yourself. Take a break from your floral dresses and Parisian stripes. This Fall you'll have a new pattern in your closet to boast about.What you'll need:Pair of solid color trousers.Fabric paint.1 inch round sponge brush.(if you don't have a round stamp you can make your own by cutting out a small round piece of cardboard.) Step 1 - Dab your brush in paint so that's it coats the bottom.Step 2 - Lay your pants flat on a hard surface.Step 3 - Holding your brush vertically apply your paint spots in the pattern you desire.Step 4 - Repeat until your pants are covered in spots!

by Geri Hirsch

With fall quickly approaching we've got one thing on our minds: how desperately we still need a tan layers, layers, layers. Piling on piece after piece can be a true fashionista-science made much easier with really great scarves. Queue Lemlem.