Ped Shoes : Cydwoq Tibet - Order online or 866.700.SHOE (7463).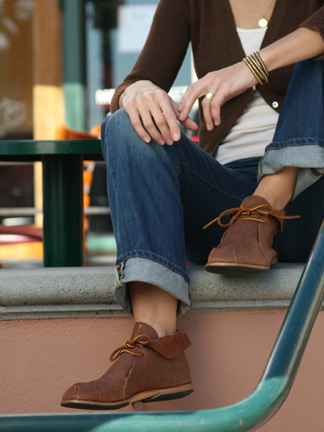 I feel like this shoe was designed for me! My mom got me a pair of "chukka boots" when I was little, and I've missed them my whole life (why, why did my feet have to grow?). Anyway, this lace-up low boot is the closest thing I've seen to my childhood shoe. Since it's from Cydwoq, you just know it's going to be sooooo comfortable. (Maybe when the checks come in at the beginning of Feb...)
LollyD
discovered 99 months ago
Related Blogs
Daily Obsesh: Colors and Metallics

Plain figure-hugging mini skirt is probably one of the favorite classic wears. It can be coordinated in different styles to make you classy, sexy, or cute. Our favorite pick is this Ruba Skirt from BCBGMAXAZRIA with a little bit of added spice and fun. The mix of bright and cheerful color bands and metallic stripes create a unique trendy look and make this skirt glow. Classy fit in a contemporary design helps to style a traditional yet creative look. On-seam hip pockets even adds functionality to this lovely skirt.

For Valentine's day keep it simple and pair a crisp new button up with a pair of cufflinks. Click below for do it yourself gift that doesn't get any sweeter.