Ped Shoes : Chie Mihara Hito - Order online or 866.700.SHOE (7463).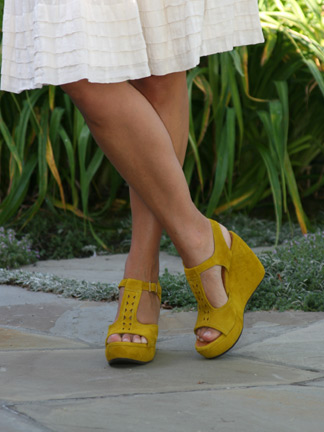 Okay, I admit when I first saw this sandal, I thought the color was a bit much, but now I can't stop thinking about it! It's so fabulous! Plus, what a way to get your height on without suffering--the cutest platform wedge out there, hands down!
LollyD
discovered 84 months ago
Related Blogs
Shoe of the Week: Chie Mihara Freshwater T-Straps

by Anna Yu

These days, a shoe needs to have some pretty innovative design for me to take notice. The majority I've been seeing at department stores and online are the usual combination of black leather, studs or zippers. While I don't mind the (certainly ubiquitous) rough and tumble look, I've been looking for something a little more... demure. Basically, I just want something ladylike that doesn't remind me of my grandmother. That's why the Freshwater T-Straps by Chie Mihara really caught my eye. They have a retro feel with their t-strap styling, but are thoroughly modern with their cutout leather circle pattern. Wear them with jeans and a leather jacket for an unexpected surprise, or pair with your favorite sundress. An added plus? The design has all of the charm of a strand of vintage pearls, without looking like you dove headfirst into grandma's jewelry box.What: the Chie Mihara Freshwater T-StrapsPrice: $375Where to Buy: AnthropologieWho: facadeindreams was the first to add the Chie Mihara Freshwater T-Straps to the Hive.

Fall Style: Three Hot Boot Trends You'll Be Seeing - and Buying!

Are you ready to update your look for fall without having to do an entire wardrobe overhaul? I know I am! Boots are the perfect way to start feeling the fall spirit. Need help picking out those new boots? Well that's where Piperlime.com can help you out; they've paired up with style expert Louise Roe from Vogue.tv to help you get a leg up on the trends! Click READ MORE for some of Roe's great advice, and SEE SLIDESHOW for my favorite fall boot picks!