Nike Women's Free Run+ Sneakers - Macy's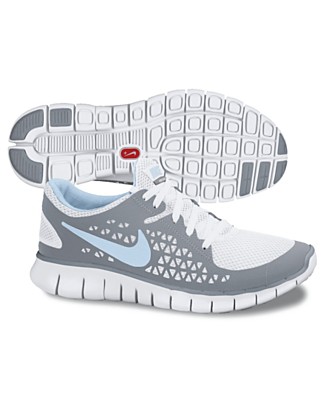 I will never buy any other running shoe -- these are amazing! The coolest thing about these sneakers is that they can be worn without socks. They are also very light weight making you feel as though you do not have shoes on when you are running. They come in many different fun colors! The Nike Women's Free Run+ Sneakers give heavenly support and breathable mesh making this the ultimate running shoe.
bheupel
discovered 35 months ago
Related Blogs
Resolve To Get In Shape In 2010 With New Fitness Gear!

by Anna Yu

One of my new year's resolutions from 2009 was to take the stairs whenever possible instead of using escalators or elevators. My resolution worked out so well that I'm continuing to take the stairs for 2010! I guess I could be getting a gym membership, but I'm still way too self-conscious to work out in front of other people. (Don't judge!) So to combat the post-holiday bulge, I've been looking for other simple and affordable fitness gadgets I can get. I love fitness balls since they're so versatile but I hate the way they can slide around. That's why the Danskin 3-in-1 Core Ball with Stabilizing Ring fits the bill. I threw in some other fitness accessories that are also useful like the Penguin 3-Pk Shoe Deodorizers that will turn your smelly sneaks into something a little more bearable. Take a look at my slideshow to see more!

Work It Out In AW77, The Greatest Sport Hoodie From Nike

You work hard- so should your clothes. The Nike AW77 hoodie, named for Athletics West (Nike's elite track and field club that year) is Nike's hardest working hoodie yet. Crafted from water-resistant French looped cotton, it's supremely comfortable and durable. The head cushioning, fully lined multi-paneled scuba hood zips up to your chin to block out the elements. Day after day, wear after wear, the ribbed cuffs and waistband hold their shape, and the body and hood will keep their form-- they're designed by athletes, for athletes, after all. Not one detail has been spared, from the windproof zippers to the top-shelf pockets and drawcords. It's quilted with insulation for warmth where you need it, and not where you don't. The interior of the hoodie is clean, with no exposed edges, so it's all about comfort. Meet your new favorite hoodie at Nike, and show it what you're made of.