Mens Sterling Silver Ring Unisex Band by ChristianJessie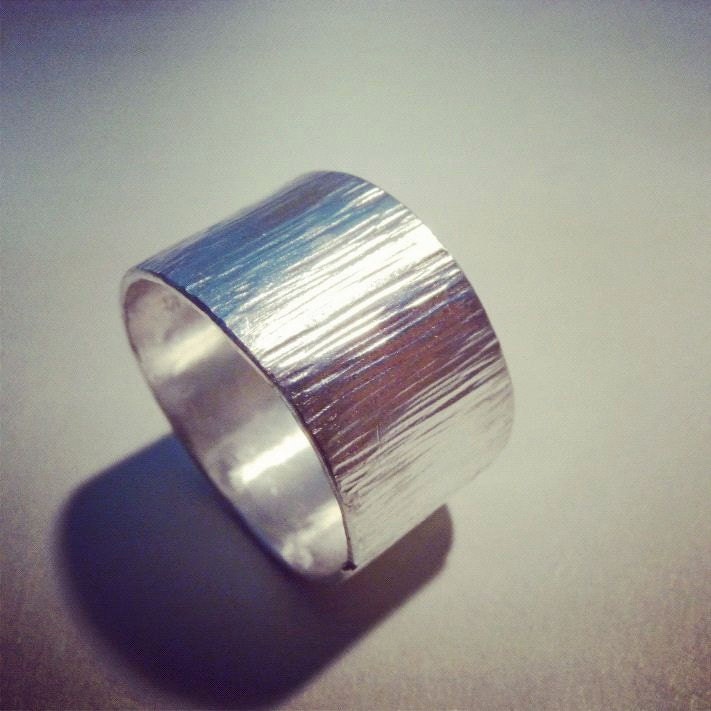 Unisex Silver Ring, Wide Ring with wood grain texture. The wood grain texture is simple and subtle, beautiful run around the band. This is a
CHISTIANJESSIE
discovered 13 months ago
Related Blogs
by Ida Hsiang

Be it a boyfriend, husband, father or brother, we love our men. And more importantly, we love to raid their closets! With the weekend approaching, why not give ourselves a well deserved treat and find something that is not only lust-worthy for us, but for our men too!It's not often that our boys can turn the tables and go ransacking in our wardrobes, so we've found five must-have items at varying budgets that they'll have trouble keeping their hands off of! Plus, when a great item can be shared, it's like getting even more bang for your buck!Wet Seal - Basic Wool Fedora, $10.50Movado - Certe Stainless-Steel Black Watch, $995.00Vila - Hooded Parka Jacket, $82.75iPod - Nano, $149.00Fabien Baron - FB014 in Tortoise, $350.00

Alex & Chloe "Holding You Forever" Wedding Rings- A Revolve Clothing Exclusive!

Weddings are deeply rooted in tradition, so much so that the white gown and coordinating taffeta bridesmaid dresses are just the buttercream icing on the classic tiered cake. But these days, more and more brides are opting for a more modern approach, and as little twists such as wedding cupcake arrangements make way for bigger ones like shorter dresses and atypical venues, it's only a matter of time before the biggest little wedding tradition- the ring- follows suit. Edgy jewelry maker Alex & Chloe has taken the traditional wedding ring and given it an ultra-modern spin with their 14k gold "Holding You Forever" rings, available exclusively on Revolve Clothing. With inverted princess-cut diamonds, square bands, and concentric circles, you've truly never seen rings like these! The men's ring is identical, minus the diamonds (and a couple dollars). The rings can be purchased as a set or individually, and are custom-made and shipped within two weeks. They're just traditional enough to be elegant, and the style, while definitely not the usual, is indeed timeless- just the way things should be.