Liz Claiborne Pink Shirt Top Petite S new NWT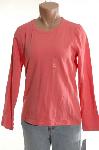 ClassicT
discovered 77 months ago
Related Blogs
Recession Chic - Classic 'Audrey Hepburn' Style for $50 or Less!

by Ida Hsiang

Trends come, trends go. And as fun as trends can be to follow, there's something to be said for a classic style that is timeless and always chic. There are a few style icons out there that year after year, generation after generation, we find ourselves still emulating their style with little or no change. One of our favorite such icons? The elegant and beautiful Audrey Hepburn. With her lady-like ensembles and demurely stylish charms, hers is a look that transcends time. From her stove-pipe pants, cashmere turtlenecks, flared dresses and ballet flats, every aspect of Audrey Hepburn's style is one that we'd like to adopt. And you don't have to spend the big bucks to dress like a big star, either! Click on the slideshow to see some of our favorite inspired-by-Audrey pieces for $50 or less!

Daily Obsesh - MinkPink Behind Enemy Lines top

There's a serious heat wave happening throughout much of the country, so it's the perfect time to bare a little skin!The MinkPink Behind Enemy Lines top is our favorite pick for a bit of bare midriff. This cute button down military inspired blouse is offered in a bright summer white which will highlight that bronz-y glow you've got from weekends at the beach. In loose, fluid rayon, the tie waist top features brass buttons, a chest pocket and button tabs at the sleeve. Pair it with your favorite high-waisted skinnies, or flares ... even cut-off denim shorts! Add some sky-high wedges or a pair of espadrilles (for a more casual look) and you are ready to face some seriously hot weather in style! Where to Buy - Nasty GalPrice - $54.60Who - Melimeli was the first to add the Mink Pink Behind Enemy Lines top to the Hive.