Lanvin Escarpin Bride et Chaine heels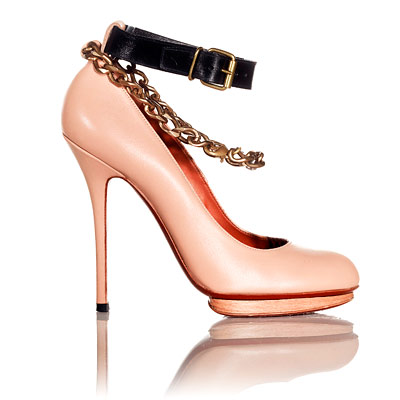 Alber Elbaz can make anything cool. Witness these beige leather stilettos, which have what looks suspiciously like (dare I speak its name?) an ankle bracelet. That particular piece of jewelry is not one I've ever been able to embrace as a style trend. But now... Worth noting: The chain detaches, so you could wear these heels without it—but, more likely, means you'll flaunt this ankle accessory with all your other shoes.
udaydream2
discovered 41 months ago
Related Blogs
Daily Obsesh: Colors and Metallics

Plain figure-hugging mini skirt is probably one of the favorite classic wears. It can be coordinated in different styles to make you classy, sexy, or cute. Our favorite pick is this Ruba Skirt from BCBGMAXAZRIA with a little bit of added spice and fun. The mix of bright and cheerful color bands and metallic stripes create a unique trendy look and make this skirt glow. Classy fit in a contemporary design helps to style a traditional yet creative look. On-seam hip pockets even adds functionality to this lovely skirt.

No one can stop the shoe obsession of fashionistas, or just any women. But this YANA from Brian Atwood can certainly satisfy the cravings for high heels this spring. This bright and sparkly single soled heel is a unique find. Scalloped chain edges the sides of the sandal creating a fun and luxurious design. Blue shagreen shade makes this shoes both refreshing and mysteriously seductive. You will find this shoes attractive and unique at an any angle you look from.