L5Rbk-big | Perfume Bottle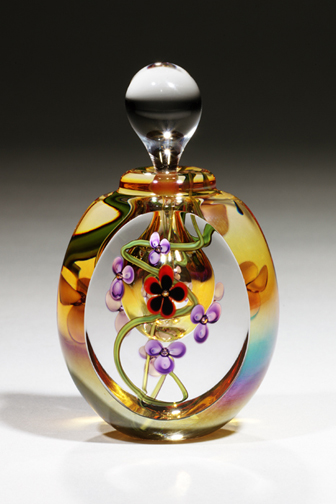 Hand blown art glass perfume bottles by Roger Gandelman. This artwork is perfect for glass collectors, craft , craft show lovers, shops, galleries.
dleath
discovered 23 months ago
Related Blogs
FashionTribes - Can't Dress Like Anna Dello Russo? Smell Like Her!

by Lesley Scott

After the success of her special edition t-shirt collection which flew off the Yoox.com shelves in an Internet minute (okay, 180 of them), the bella darling of the streetfashion blogs and Creative Consultant for Vogue Japan has now created an eponymous fragrance ... just in time for the gift giving season! Available starting in early December only at Yoox.com, the juice - created in collaboration with the prestigious perfumery Firmenich - is designed to call to mind both sweet treats and 'primary' sensations.'The essence of vanilla mixed with almond creates a scent inspired by the memories and the flavors of childhood, the wholesome smell of warm cookies coming from Grandma's kitchen on Christmas Eve', explains the online style sensation. 'They will tell you, 'you smell so good that I want to eat you!''Bottled in a glamorous golden slipper-shaped bottle that is molto reminscent of a romantic fairytale, once you've spritzed your way to the bottom, the lusciously shiny shoe can then be hung as a memento on your holiday tree.

Daily Obsesh - Lucy B Eau de Parfum

by Zuri Magers

When choosing a perfume, finding a scent that fits your personality and that you can bear to have on you day after day is of course the first priority. Second on our list? Choosing a perfume whose bottle will look just as cute displayed on our vanity as the rest of our carefully curated tchotchkes. When we discovered Lucy B's eau de parfum, beautifully packaged in a glass spray bottle with metallic foil flowers, we knew we had discovered such a bottle. With four different inspired by nature scents to chose from - tropical gardenia, wild jasmine, tiare coconut and pink frangipani - there is a scent for every girl. We love that Lucy B finds inspiration in ancient healing lore, plant wisdom and the natural beauty of Australia. While made with the most modern technology, the perfume's are infused with naturally uplifting Australian flower essences. What's not to love?! Tell us, which scent would you choose?Where to Buy - Urban OutfittersPrice - $26Who - Zuzubean was the first to add the 'Lucy B Eau de Parfum' to the Hive.