KATY PERRY COSTUME CUPCAKE CHARM BRACELET on eBay by Lavish-Accessories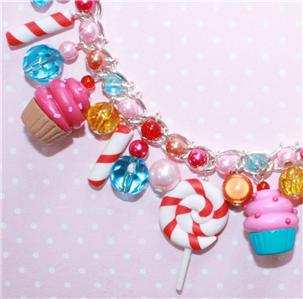 Cupcake and lollipop charm bracelet. Perfect to finish off a Katy Perry outfit or compliment the 'sweet' look that is every little girls dream and every fashonista's most coveted style. Delightful! Find it on Ebay in the Lavish-Accessories Shop: http://cgi.ebay.co.uk/ws/eBayISAPI.dll?ViewItem&item=320722403517&ssPageName=STRK:MESE:IT
devivre
discovered 69 months ago
Links
Related Blogs
Video Style Steal - Katy Perry 'Last Friday Night (TGIF)'

by Ida Hsiang

Katy Perry is the queen of infectiously catchy dittys. Her latest single, 'Last Friday Night' is a fun, poppy number that comes with a video collage of late 80's and early 90's styles and cameos. Fringe denim jackets with shoulder pads, neon spandex, and appearances from Kenny G and Hanson make this video complete. And while we love what the fashion trends featured does for the vibe of the music video, we're not so sure about sporting it ourselves in this day and age. So we're using Katy Perry's video style as an inspiration and gave it a modern edge! Check out her video for 'Last Friday Night', then click on the slideshow to see how to wear this look in an updated way!

Daily Obsesh - Katy Perry for OPI 'Black Shatter' Nail Polish

by Ida Hsiang

This has got to have been one of OPI's most anticipated nail polish collections! It's no surprise either with Katy Perry's Midas Touch and her ability to make even the craziest styles trendy and cool! The OPI Black Shatter nail polish is the next hot thing in nail beauty! Simple choose your favorite color and apply as you would regularly. Let that dry completely and apply a layer of the black shatter lacquer over. ... And that's it! This cool top layer naturally dries into the edgy crackled and shattered effect that we're looking for!The Katy Perry nail collection includes four different colors, all inspired by Katy's whimsical candyland style, as well as a bottle of the shatter polish. Got lots of colors already? You can get the shatter polish individually too! We think we're going to be adding this cool polish effect to all of our manicures! Have you tried it, yet?Where To Buy - Amazon Price - $40.00 (Collection) $11.75 (individual shatter polish)Who Found It - Idabone was the first to add the 'OPI Katy Perry Collection w/ Black Shatter Polish' to the Hive.