Jenni by Jennifer Moore Notebooks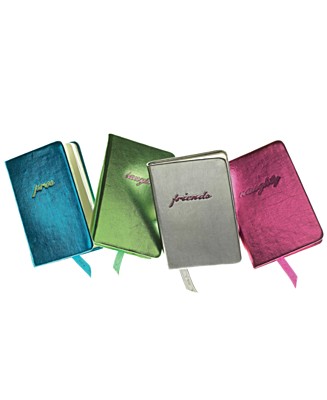 Shop the latest Jenni Mini Notebook online at Macys.com. Charming little notebooks to keep by your side day and night, from Jenni by Jennifer Moore.
idabone
discovered 92 months ago
Related Blogs
DIY Stationary - Color Blocked Notebooks

Splitting ways with your best gal pals for a summer internship or vacation abroad? Look no further for a great going-away gift! Jot down some quick notes, or sketch at your favorite museum in a color blocked notepad that you can personalize for yourself or gift to your best friend. Add a touch of chic to boring summer classes - Here's an easy way to transition your favorite color blocking trend from your closet to your backpack! What you'll need- - Notebook- Acrylic paint, magic marker, or coloring option of your choice that will adhere to the notebook's material (or you can use colored duct tape!)- Masking Tape- Paint brush- A large piece of paperStep 1 - Tape off the section that you would like to color block and press firmly. This will give you a clean line.Step 2 - Completely color in the area with a few coats of paint.Step 3 - Carefully tear off the tape before the paint drys and let sit until completely dry.

The Write Stuff - Daily Planners So Cute You'll Want To Get Organized!

by Zuri Magers

Planning and organizing aren't exactly gifts I was born with, but over the years I've figured out a few ways to trick my brain into believing that it enjoys calendars, painstakingly labeled document files, and tidy, well organized spaces. My secret? My calendars, planners, folders, pens, even my paperclips, all have to be colorful, chic and completely adorable. Seriously. Give me an awesome, leather bound planner and a hot pink Sharpie, and I will go nuts writing out my to-do lists and plotting family member's birthdays throughout the year. I suppose I am a bit of an office supplies magpie, if you will. Some girls go nuts for diamonds, but Moleskine 18 Month Weekly Planners are this girl's best friend. With students heading back to school and the new year rapidly approaching, now is the time to start getting organized! This has to be one of my favorite times of the year... when I am able to flip back through my weekly planner and see over a years worth of doodles, attended events and colorful checked-off to-do lists that make me feel oh-so accomplished. Even better? I get to start shopping for my 2011 calendar. I've been perusing the web and have found quite a few planners and journals (sometimes not having dates on the page can be ideal for never ending to-do lists) that tickle my fancy. Click through the slideshow and let me know which is your favorite!