it's the little things sterling silver necklace with wishbone charm : Dogeared Jewels and Gifts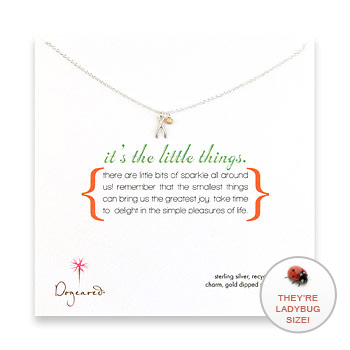 Sometimes the littlest things can make the biggest difference in your mood, your day, even your life! The smallest pleasures often have the greatest reward! Like this dainty little necklace with a tiny sparkle bead and itsy bitsy charm. It may be small, but it's powerful!
dogeared
discovered 95 months ago
Related Blogs
Hot In The Hive: Plug & Socket Rings

We all remember fighting over those two-piece friendship necklaces in elementary school -- you know, the ones with the heart split in half (one said "best," the other "friend"), or the separate yin and yang necklaces that were reunited whenever you ran into each other on the playground. These Plug and Socket Rings from Artifacts by Casey put a unique spin on that childhood accessory. They're certainly not as expected as two sides of the same heart when it comes to jewelry, but somehow they turn household electricity into something fashionably funky. Buy one for yourself and one for your equally fierce BFF, go for a "his and hers" deal, or keep them both for yourself (after all, a plug's no good without a socket)!Price: $180 for the plug, $150 for the socket (sold separately)Who Found It: xgalexy was the first to add the Plug and Socket Rings to the Hive.

Hot In The Hive: Cynthia Rowley Heart Rings Set

Valentine's Day is next month, but I don't think you need the excuse of the lovey-dovey holiday to rock these super-cute heart rings by Cynthia Rowley. They come in a set of three -- one copper, one sterling silver, and one vermeil -- so you can choose to either keep them all to yourself for stacking... or dole them out as gifts to your various significant others (or best friends, whatever). Personally, the 3-in-1 set appeals to me as a gal who's always losing her jewelry -- I'll still have two more when I drop one of them down the drain! And I wonder why no one ever buys me stuff from Tiffany's...Price: $90 for set of 3Who Found It: xgalexy was the first to add the Cynthia Rowley Heart Rings to the Hive.