Hotel "Linear" Stemware Collection - Dining & Entertaining Home - Sale - Macy's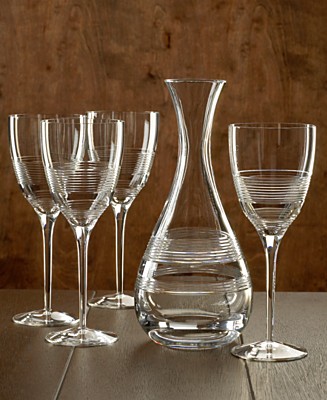 Invite chic elegance to your next cocktail party with the Hotel Linear Collection. Ribbed texture gives a modern twist to this classically-shaped stemware and adds a fashionable flavor to anything you imbibe.
facadeindreams
discovered 59 months ago
Related Blogs
Daily Obsesh - BYO Wine Labels From 'The Creative Method'

by Ida Hsiang

The workers and brainstorm experts behind The Creative Method weren't kidding with their name. They're known for having the most innovative and unique ideas that are both fun and practical and there BYO Wine Labels are no exception. Originally made as a gift to a client, members of The Creative Method wanted to give something that was a little more personal as well as reminded the client of the people behind all the hard work and great ideas. They sent bottles of wine featuring labels that they put together themselves out of stickers of their own features. One thing led to another and now the BYO (Build Your Own) Wine Labels are available to the general public and include a bottle of wine and a sticker page of personalized features that you can arrange before gifting, or let the giftee have the fun themselves! A bottle of high-quality wine and a BYO Wine Label is not only a fun gift, but also a perfect solution for making an appearance even when you can't make it there in person!Where to Buy: The Creative MethodPrice: Please inquire through siteWho: Idabone was the first to add the 'BYO Wine Labels by The Creative Method' to the Hive.

Transparent Decor For A Clearly Amazing Home!

by Ida Hsiang

Decorating your home is never an easy feat, made even more difficult with all the great styles of decor and furniture designs available these days. It seems once you've found a great sofa set, it's nearly impossible to then find a dining set and bedroom set and china set and the countless other home accessories that will all match each other perfectly. Sometimes, it's enough to make you wanna tear your hair out. An easy solution? How about finding home decor and furniture that are all the same color? Or more accurately, lack of color. Clear accessories for the home, as well as clear furniture and other home accents, are popping up all over the place. Not only will they surely match perfectly with all the other color-less pieces, but the see-thru aesthetic gives the home an ultra modern and futuristic feel. With everything from kitchenware to larger household items available in clear materials, it's easy to give your home a cohesive look and unique style. Plus, cleaning is a snap when you don't have to bust out the heavy vacuum cleaner or steamer and just need a box of Clorox wipes. The only downside? Since these super cool home accents are see-thru, no more stuffing the dirty laundry and other little messes behind the furniture when guests come over!