High Sun Bikini Bottoms - Anthropologie.com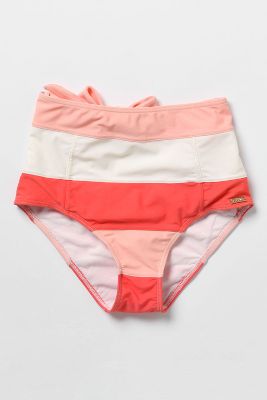 The vibrant colorblock bands on Camilla and Marc's high-waist pairing invite you to bask in the bright light of the day.
soapyme
discovered 26 months ago
Related Blogs
Daily Obsesh - Gold Foil Bikini

Go for gold these last few weeks of summer with Asos' gold foil animal bikini. The shimmering suit features low cut, sexy hipster bottoms offering the perfect amount of coverage and a twisted bandeau top that can be worn with or without a strap. A subtle snakeskin print combined with the metallic material gives it such an exotic feel! Pair it with turquoise beads for the ultimate beach glam get up!It really is hard to believe that Fall is just around the corner, so make a shining statement with this little stunner during your final days of summer ... then be sure to pack it with you when you escape the winter for an equally exotic destination!Where to Buy - AsosPrice - $53.44Who - Melimeli was the first to add the gold foil bikini to the Hive.

Street Style - How To Wear The High-Waisted Trend

by Ida Hsiang

There's a trend that we've been loving for all season and that's the high-waisted look! It's flattering on all as it hides a bit of belly bulge, while seriously elongating the legs. Whether you want to go chic and sophisticated with a pair of high-waisted trousers or flirty and femme with a skirt, this trend is always a stylish choice. We've caught up with some of the biggest style bloggers out there to see their take on the high-waisted trend!