Happy New Year! Freeze 24-7 Giveaway Courtesy of ideeli!: Raging Rouge: The Beauty Blog And Product Reviews Of A Makeup Addict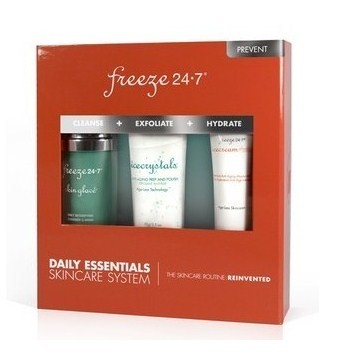 This giveaway is hosted by ideeli and Freeze 24-7. Three winners will receive deluxe samples of the Freeze 24-7 Daily Essentials Skincare System complete with Skin Glace Daily Detoxifying Cleanser & Mask, IceCrystals Anti-Aging Prep and Polish and IceCream Double Scoop Intensive Anti-Aging Moisturizer. Retail value per kit is approximately $100! For a chance to win, you simply must sign up to peruse ideeli sample sales. Click HERE and enter the invite code "rouge". Then follow the prompts to set up your account. You'll only need to provide an email address! The code "rouge" tips off the fabulous people at ideeli that you are, indeed, a friend of ours... and entering that code is how you enter the giveaway! ideeli has reserved THREE kits for Raging Rouge readers, so it's important to use that code! Anyone can receive 30% off any Freeze 24-7 purchase through January 31st. Simply click here to shop and use coupon code "ideeli09" at checkout.
acohen
discovered 53 months ago
Links
Related Blogs
Daily Obsesh: Colors and Metallics

Plain figure-hugging mini skirt is probably one of the favorite classic wears. It can be coordinated in different styles to make you classy, sexy, or cute. Our favorite pick is this Ruba Skirt from BCBGMAXAZRIA with a little bit of added spice and fun. The mix of bright and cheerful color bands and metallic stripes create a unique trendy look and make this skirt glow. Classy fit in a contemporary design helps to style a traditional yet creative look. On-seam hip pockets even adds functionality to this lovely skirt.

The sun is coming out and we are getting excited to get out difference versions of sunglasses we own. Going on a sunglasses hunt is always fun as there are so many different shapes, colors, and sizes. Our favorite pick today is this Silver Metal Frame Sunglasses from Quay Eyewear. Circular lens frame is finished off by the angular corner giving it a retro and chic cat-eye look. With the reflective metallic coated slim lenses that go across the circular frame, this sunglasses is looking cool and vintage inspired. Perfectly put together with lightweight metal frames and adjustable silicone nose pads for added comfort.