guardian angel make a wish bracelet with sterling silver angel wings on ocean irish linen : Dogeared Jewels and Gifts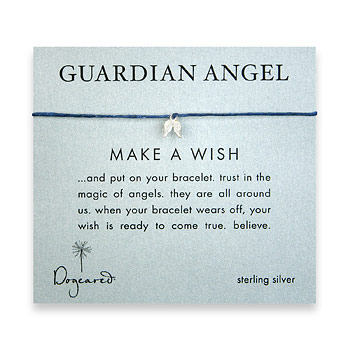 Our best-selling concept make a wish necklaces have found their ways down to your wrist! This make a wish bracelet features a sweet pair of angel wings on ocean Irish linen. . The charm may be small, but the wishes are big! Wear your bracelet until your wish comes true!
dogeared
discovered 59 months ago
Related Blogs
Label Love: Minimarket Takes The World (& Sea) By Storm!

Swedish label Minimarket, founded by sisters Sofie, Pernilla and Jennifer Elvestedt back in 2006, has already snatched up multiple highly-coveted fashion awards in their short 4 years in business, like "Best New Designer" and "Best Designer of the Year" courtesy of Swedish Elle. So for their Spring/Summer 2010 collection, the girls decided to go out on a limb and go even more "out there." The result? A collection that draws inspiration from both the ocean... and outer space! With astronaut-inspired boots, goggle-like sunglasses, wavy ruffles, shoulder pads that mimic the angles of manta ray wings, and prints that make fish scales look fashionable, the line proves that their combined imagination can be described as anything but mini! Take a look at the slideshow for a peek at their latest sky-meets-sea collection!

Sea-Inspired Accessories Help Turn Your Home Into A Beachside Escape!

by Ida Hsiang

Is there anything more relaxing than a tranquil stay at a beach-front home? While it may be hard to venture off to a seaside escape, bringing under-the-sea-inspired home decor and the soothing colors of the ocean into your own living space is easily doable and beneficial to everyone. While an under-the-sea theme usually conjures up the bright colors and cartoon-like sea creatures reminiscent of Disney movies and kids' birthday parties, putting a more tasteful spin on things is easy! Subtle home accessories, peaceful colors and rich, quality materials make you home into a mini-beach front getaway, even if you live in the middle of the city. Click on the slideshow to see some stylish sea-inspired home accents that will help turn your space into a calm and charming Octopus's Garden!