Garden Garnish Kimono Top - Anthropologie.com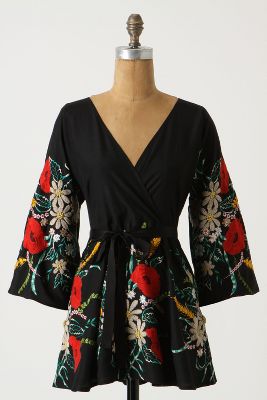 A soft-woven surplice shape is sumptuously stitched with a lavish, all-over encrustation of beautiful blooms. By Zehavale.
soapyme
discovered 76 months ago
Related Blogs
Shoe of the Week: The J. Crew Loafer

Beyond obsessed with these modern takes on a classic! In electric poppy or gorgeous 24 karat these loafers are timeless! Click below to see them in all their patent glory!

by Ida Hsiang

Contrarian is a label designed by a mother and daughter duo who use their differing generational views on fashion to produce a line that is trendsetting, versatile and the perfect for mixing and matching your way to the style you want to achieve. Based out of New York City and made in the USA, Contrarian features apparel ranging from sophisticated dresses, blouses, skirts and trousers mixed in with interesting garments inspired by the Edwardian era, including blazers and sweeping tailcoats, as well as unique and flattering pieces like kimono cardigans and military style jackets. The signature look of Contrarian, however, is their backless pieces which are sexy and different. Already a favorite of celebrities like Drew Barrymore, Taylor Swift and Rihanna, Contrarian can be found in boutiques nationwide including Sarca, Pixie and Ivy, Harajuku, She Boutique, Red E and Pik Nik. Click on the slideshow to see more of Contrarian's sweet and feminine looks for yourself!