Free People Clothing Boutique > Cashmere Printed Nightie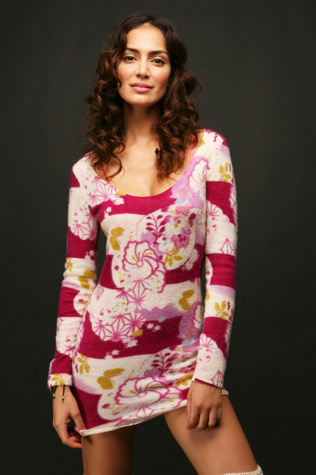 Super soft printed cashmere nightgown with long sleeves and scoop neckline. Can be worn as a tunic or nightie. * 100% Cashmere * Dry Clean Only * Imported Measurements for Size Medium: Length: 31 3/4" Chest: 25 3/4"
derniercri
discovered 65 months ago
Related Blogs
Daily Obsesh: Colors and Metallics

Plain figure-hugging mini skirt is probably one of the favorite classic wears. It can be coordinated in different styles to make you classy, sexy, or cute. Our favorite pick is this Ruba Skirt from BCBGMAXAZRIA with a little bit of added spice and fun. The mix of bright and cheerful color bands and metallic stripes create a unique trendy look and make this skirt glow. Classy fit in a contemporary design helps to style a traditional yet creative look. On-seam hip pockets even adds functionality to this lovely skirt.

Spring time weather is so inspiring and always makes it so fun to pick outfits. You can get creative with thin layers, vibrant colors, and crazy prints. That is exactly why we love this Printed Jersey Tunic from Donna Morgan. Combination of the color block with flower prints gives so much character to this dress. It can not get more interesting than the black, purple, and blue flowers on block of white, black, blue, and purple. Shift Silhouette and beaded round neckline adds classiness to this fun and spontaneous dress, making it a perfect contemporary spring time dress.