Fleur-De-Lys Hook Rack - Anthropologie.com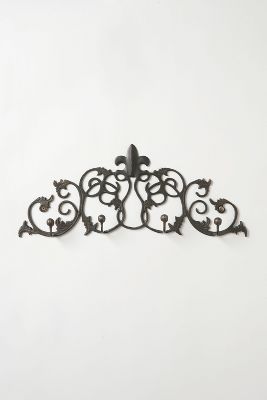 A scrolling motif antiqued pewter or iron, fit with four sturdy hooks.
facadeindreams
discovered 90 months ago
Related Blogs
Rack, Hang, Lay And Store Your Jewelry On Some Artful Attractions!

Racks, boxes, stands and trays might not be on the top of your wishlist - until you become frustrated with a drawer full of tangled, clumped chains and charms. However, organizing elements have made a significant improvement in the design department, making these gems of containers and hangers irresistible! The creative knick-knack sculptors who have finally made practical use of their cute designs have no idea how grateful I am for the precious organizational art pieces! My dangling feather earrings are huge fans of the jewelry trees aplenty, while my rings are dish-girls all the way. Jewelery-hanging wall fixtures are perfect for keeping things accessible, yet out of the way, although I prefer to decorate my dresser space with serviceable trinkets like this! Creativity, however, is in the eye of the beholder -- any old cute thing to put stuff in can keep you happy, organized and jewelry-clump free!

Hot In The Hive: Ninja Star Coat Hooks

Does your prissy Hello Kitty-adorned apartment need a little roughing up? If so, I've got the best thing to make your pad a whole lot more bad-ass: Ninja Star Coat Hooks. Made of super-strong nickel-plated alloy, the star is shaped to easily install into your wall and look as if you've survived a sneaky ninja attack right in your own home. See? Bad-ass. In fact, you're so bad-ass that after you survived said attack and dispelled the ninja from your pad, you decided to make a mockery out of his misfired weapons and hang your coats from them! True, most of your guests will probably assume they're just fun little decorations that you bought online ('cause you did) and ask where you got them, but they'll secretly be afraid to mess with you from now on, just in case.Price: $12.99 eachWho Found It: xgalexy was the first to add the Ninja Star Coat Hooks to the Hive.