Fair Lady Trench - Anthropologie.com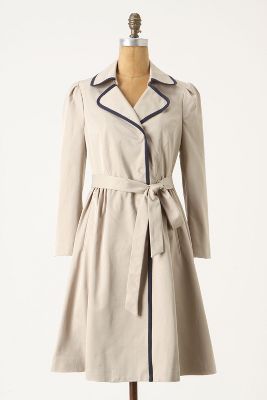 Grandiose gathers and navy piping are all the femme accents a classic coat could need. By Elevenses.
soapyme
discovered 29 months ago
Related Blogs
Spring time weather is so inspiring and always makes it so fun to pick outfits. You can get creative with thin layers, vibrant colors, and crazy prints. That is exactly why we love this Printed Jersey Tunic from Donna Morgan. Combination of the color block with flower prints gives so much character to this dress. It can not get more interesting than the black, purple, and blue flowers on block of white, black, blue, and purple. Shift Silhouette and beaded round neckline adds classiness to this fun and spontaneous dress, making it a perfect contemporary spring time dress.

Get The Winning Look From Our 'Kate Middleton - Royal Style' Poll!

by Ida Hsiang

Kate Middleton, now the new Princess Catherine, is poised to be a real style icon with her classically youthful but modern ensembles. One go-to look she has that we love? A structured long coat, classic boots or pumps, a chic bag and minimal jewelry. We asked you last week which of these combination you liked the best and with almost half the votes, Princess Catherine's white trench coat and black boots is the winner! A white trench is the perfect coat for spring and those cooler summer evenings, while her boots add a little sex appeal without being too over-the-top. Her silver accessories and versatile black satchel help complete a look fit for a Queen in the making! Click on the slideshow to get this stylish Kate Middleton look for yourself!