Eyelet Tank - Anthropologie.com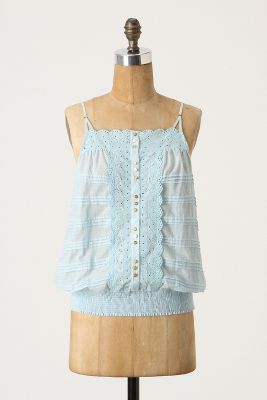 Groups of pleats define Leifsdottir's blouson tank, as delicate eyelet scallops edge the decorative placket.
soapyme
discovered 69 months ago
Related Blogs
Daily Obsesh - Cream Cutout Floral Print Suntop

by Lisa Topiol

This is the stuff we live for in the warmer months - florals, flowy tops, fun colors, and sexy shapes. Summer is all about good times and fun apparel so this Cream Cutout Floral Print Suntop by Topshop really gets us going! Imagine yourself, crossbody bag slung across your shoulder, a great pair of espadrilles, and this top as you stroll the streets and soak in the summer sun.That's what this tank is all about - a carefree attitude and great style. What makes this top unique is the cutouts along the side to expose just a little bit more skin and giving a great shape. It mixes traditional floral patterns with a more industrial look by placing an exposed zipper at the front.Summer's here - arrive in style!Where to Buy - TopshopPrice - $56.00Who Found It - Cream Cutout Floral Print Suntop' to the Hive.

Daily Obsesh - High Waist Floral Shorts

Do you wear short shorts? We'll be wearing short shorts this summer, for sure! From simple solids in bold, vibrant colors like tangerine and turquoise to punchy prints in florals and ethnic inspired tribals - Shorts are surely a key item for your warm weather wardrobe ... and there are plenty to choose from!A favorite of the Hive's is from every fashionista's favorite cheap and trendy boutique ... Forever 21. Their high waist floral belted shorts are the perfect pairing of casual and chic. In a comfy knit fabric, the shorts feature a pleat front and come with an elastic and faux leather belt. A bright royal blue background is made lively with pops of red and turquoise florals! In a word ... CUTE!Where to Bu - Forever 21Price - $16.90Who - Melimeli was the first to add the 'High Waist Floral Belted Shorts' to the Hive.