Esprit - Double Breasted Pea Coat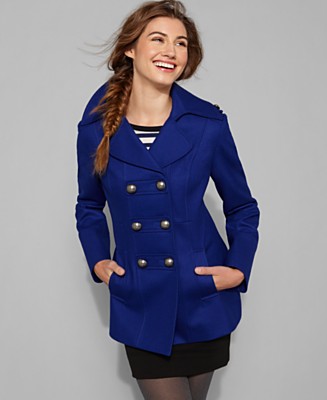 # Wool/polyester/nylon/rayon/acrylic; lining: polyester # Dry clean # Imported # Medium weight # Notched collar # Long sleeves; epaulettes at shoulders # Double-breasted dome button closures # Vertical slit pockets # Hits at low hip; approximately 27 inches from center back neckline
idabone
discovered 77 months ago
Related Blogs
Recession Chic - Not-So-Basic Trenches

by Ida Hsiang

We're loving the longer days and sunny afternoons but there's still a seasonal nip in the air and even the occasional April shower so while we've packed away the heavy winter coats, it's the perfect weather for some lighter outerwear. Trench coats are a spring staple and while the classic trench is always a versatile and cute look, we like to give our basic pieces a modern and trendy twist. We've shown you our favorite not-so-basic blazers, and now we've found our favorite not-so-basic trenches! They're a fun way to shield yourself from the elements while showing off your unique sense of style! Plus, you don't have to spend and arm and a leg! Click on the slideshow to see our top ten not-so-basic trenches for $100 or less!

Street Style - Not-So-Basic Blazers

by Ida Hsiang

Blazers had started out as a chic menswear piece that has been re-vamped and embellished in a million different ways to become staple pieces in every woman's closet. And now that Spring is at our doorstep, there's never been a better time to stray from the basic-black blazer and opt for something different! Try a bright color to match the season, or an embellished blazer that will be the ensemble's center piece. Blazers are just enough coverage for the slight breeze that's still in the air and it's structured silhouette it always sharp. Blazers match jeans, dresses and leggings and with sequined to leather versions, cropped, studded and distressed, it seems like there's a blazer for any style out there! Click on the slideshow to see some of our favorite not-so-basic blazers!